College Football Playoffs 2018: Predictions for Clemson vs. Notre Dame
A "swarm" of 31 college football enthusiasts worked together as a hive mind to make their prediction.
by T.E. Andrews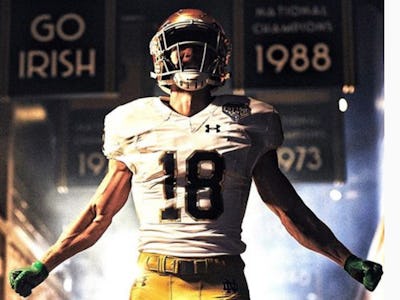 Notre Dame football
Old money meets new money – again. Notre Dame heads to Dallas to take on Clemson in the Cotton Bowl this afternoon (kickoff at 4 p.m. Eastern). If recent history serves as any predictor, we are in for another treat on the fourth day of Christmas. These two teams met in an instant classic back in 2015, with the Tigers shutting down a two-point conversion attempt by the Irish to eke out a 24-22 win in the midst of gale-force winds and driving rain caused by Hurricane Joaquin.
After the game, a jubilant and water-logged Dabo Swinney reiterated the pregame speech he'd given to his Clemson players, telling ABC's Heather Cox that while he could give his players fancy uniforms, protein bars, and room and board (although apparently not the full value of the millions of dollars these "student-athletes" provide for the NCAA… on second thought, let's grind that axe another day), he couldn't give them guts. He couldn't give them heart. Swinney told them they had to BYOG, or Bring Your Own Guts. And they did.
Expect more self-produced intestinal fortitude in this one. On the other sideline arrive the storied Fighting Irish, fresh off their own undefeated season. These two teams are on interesting trajectories: since their epic clash with the Tigers in 2015, the Irish have been knocking on the College Football Playoff's door, but haven't broken through until this season.
Notre Dame, of course, is perhaps the bluest of blue bloods in the college-football world, and a lightning rod: if you love the Irish, they can do no wrong; if you hate them, they can do nothing right. Rabid supporters of the Irish want it all; national championships on the field and straight As in the classroom. And yet, the program's 12th national title has remained elusive. The House That Rockne (and Leahy, Devine, Parseghian, and Holtz) Built has fallen into disrepair for most of the early 20th century.
By contrast, since the Notre Dame game in 2015, Clemson has gone on to make four consecutive playoff appearances, two trips to the national-championship game, and win it all in epic fashion in 2016 against Emperor Saban and imperial Alabama, the reigning dynasty in the sport. So when the Irish meet the Tigers on the field, they'll be in the rare position of battling a program that has attained a current level of success that Notre Dame wants to reach.
These two teams are bizarro versions of one another, with both having made quarterback substitutions that preserved their undefeated seasons. The Irish didn't hit their stride until sitting starter Brandon Wimbush for backup Ian Book in the fourth game of the season, while Prince Charming Trevor Lawrence replaced Kelly Bryant under center for the Tigers.
Which brings us to this afternoon's game. The last time the Irish reached a national stage of this magnitude, Alabama blew them off the field. However, in the six years since, Notre Dame has upgraded its recruiting and now fields a more talented team across its two-deep.
Meanwhile, the good times (and ACC titles, playoff appearances, and top recruiting classes) just keep on rollin' for Clemson. Not bad for a guy whose brother gave him the nickname "Dabo" (short for "That boy") and didn't learn his real name until the third grade.
Some late-breaking news may well factor into the outcome here, as three Clemson players, including potential first-round NFL pick defensive lineman Dexter Lawrence, tested positive for performance-enhancing drugs earlier this week, and will likely miss the game as a result.
Vegas has Clemson as a double-digit favorite in this game. That feels too high, especially if Lawrence gets suspended, as many expect. Do we believe enough in the Irish to pick them outright to reverse the latest string of high-profile blowout losses? Perhaps we've had too much eggnog this holiday season, but yes, we do. Wake up the echoes. Irish 38, Tigers 35, is my prediction, but how does a hive-mind of college football experts see this game turning out?
To predict the result of this college bowl game match-up, Unanimous A.I. used what's known as swarm intelligence. A "swarm" of 31 college football enthusiasts worked together as a hive mind to make their prediction, and as you can see in the animation below, each participant controlled a golden magnet and used it to drag the puck toward the result they thought was the most likely outcome. This is where it gets interesting: As a user sees the puck move toward a particular decision, it triggers a psychological response. They might readjust their thinking as the group builds toward a consensus. It's an artificial intelligence, produced by human brains, working together as a swarm.
As the swarm replay above shows, the hive-mind of 31 college football experts has predicted with high confidence than Clemson will win the 2018 Cotton Bowl against Notre Dame.
Clemson plays Notre Dame in the 2018 Cotton Bowl at 4 p.m. Eastern Saturday. The game is at AT&T Stadium in Arlington, Texas, and on ESPN.
Here's how Unanimous A.I. has predicted NFL games this season.
Unanimous A.I. has made some scarily accurate predictions in the past using swarm intelligence, as our this article explains. For instance, the swarm picked this year's Oscar winners with 94 percent accuracy. Here's Unanimous A.I. founder Louis Rosenberg explaining swarm intelligence at a recent TEDx Talk: