Who Will Win Iowa State vs. Washington? A.I. Predicts
A hive-mind of 29 college football experts has made its prediction.
by T.E. Andrews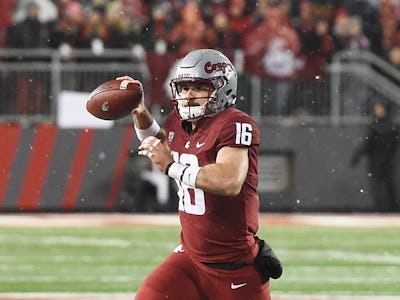 Robert Johnson/Icon Sportswire
Batten down the hatches and sound the alarm – the Air Raid is coming to San Antone. Washington State head coach Mike Leach – offensive innovator, acclaimed author and pirate aficionado, and giver of wedding advice – brings his prolific offense to bear against Iowa State in tonight's Alamo Bowl, kicking off at 9 p.m. Eastern. Leach led the Cougars to a 10-2 record this season, coming this close to crashing the College Football Playoff before falling to rival Washington in the Apple Cup to end the season.
Leach's latest success has arrived in the personage of Cougars quarterback Gardner Minshew, who has thrived under Leach's tutelage and needs only 238 yards to break the single-season record for passing yards in the Pac-12, set by some guy named Jared Goff. In return, Minshew – who has made Movember a way of life – has imparted his knowledge of the 'stache to his coach.
Which brings us to tonight's game. A key issue will be Wazzu's level of motivation: how excited will the Cougars be to play in this game, having narrowly missed out on a Pac-12 title, a potential playoff berth, and/or a trip to the Rose Bowl? In losses to Oklahoma and Texas earlier this season, Iowa State showed the ability to at least slow some of the more high-powered offenses in the Big XII. Even so, we'll take Mike Leach and the Cougars in a close one. Leach has turned the ship around in his seventh season in Pullman, having posted his fourth consecutive season with at least eight wins. If When they build a statute in Leach's honor, we can only hope they model it after the portrait in his office. Washington State 31, Iowa State 28, is my prediction, but how does a hive-mind of college football experts see this bowl game turning out?
To predict the result of this college bowl game match-up, Unanimous A.I. used what's known as swarm intelligence. A "swarm" of 29 college football enthusiasts worked together as a hive mind to make their prediction, and as you can see in the animation below, each participant controlled a golden magnet and used it to drag the puck toward the result they thought was the most likely outcome. This is where it gets interesting: As a user sees the puck move toward a particular decision, it triggers a psychological response. They might readjust their thinking as the group builds toward a consensus. It's an artificial intelligence, produced by human brains, working together as a swarm.
As the replay above shows, a hive-mind of 29 college football experts has low confidence that Washington State will win against Washington State during the Alamo Bowl on Friday night.
Iowa State plays Washington State at 9 p.m. Eastern Friday on ESPN. The game is being held at the Alamodome in San Antonio, Texas.
Here's how Unanimous A.I. has predicted NFL games this season.
Unanimous A.I. has made some scarily accurate predictions in the past using swarm intelligence, as our this article explains. For instance, the swarm picked this year's Oscar winners with 94 percent accuracy. Here's Unanimous A.I. founder Louis Rosenberg explaining swarm intelligence at a recent TEDx Talk: