Who Will Win Giants vs. Colts? A.I. Predicts Barkley vs. Luck
A "swarm" of 28 NFL enthusiasts worked together as a hive mind to make their prediction.
by T.E. Andrews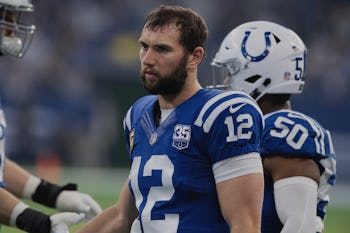 Zach Bolinger/Icon Sportswire
At 8-6, the Colts are still alive in the AFC playoff hunt. At 5-9, the Giants… well, not so much. Indy has won seven of its past eight games, including impressive wins over two likely playoff teams in the Texans and Cowboys in the past two weeks.
With a potential playoff berth still in reach, Colts' quarterback Andrew Luck may also find extra motivation in his Pro Bowl snub this past week. Just ask Captain Andrew Luck. Rookie guard Quenton Nelson made his first Pro Bowl appearance, but he remains hungry for pancakes.
For their part, the Giants continue to slog towards the finish line of their interminable season, having gotten shut out at home last week against the Tennessee Titans. Star receiver Odell Beckham Jr. has missed the past two weeks due to injury and looks unlikely to return this week, despite the public shaming exhortations of his head coach. With the season already in the tank, New York would be wise to shut down Beckham Jr. (and fellow star and rookie running back Saquon Barkley) to spare them from injury in the last two, meaningless games of the season, but dumber things have happened before. With potential sit-outs due to injuries on the Giants and the Colts having more (something?) to play for, we'll take Indianapolis in this one. Colts 27, Giants 20, is my prediction, but how does a hive-mind of NFL experts acting as an artificial intelligence predict this Week 16 match-up?
To predict the result of this Week 16 match-up, Unanimous A.I. used what's known as swarm intelligence. A "swarm" of 28 NFL enthusiasts worked together as a hive mind to make their prediction, and as you can see in the animation below, each participant controlled a golden magnet and used it to drag the puck toward the result they thought was the most likely outcome. This is where it gets interesting: As a user sees the puck move toward a particular decision, it triggers a psychological response. They might readjust their thinking as the group builds toward a consensus. It's an artificial intelligence, produced by human brains, working together as a swarm.
As the swarm replay above shows, the NFL hive-mind has high confidence that the Indianapolis Colts will defeat the New York Giants at home on Sunday.
The Giants play at the Colts at 1 p.m. Eastern Sunday on CBS.
Here's how Unanimous A.I. has predicted previous NFL games this season.
Unanimous A.I. has made some scarily accurate predictions in the past using swarm intelligence, as our this article explains. For instance, the swarm picked this year's Oscar winners with 94 percent accuracy. Here's Unanimous A.I. founder Louis Rosenberg explaining swarm intelligence at a recent TEDx Talk: