Chiefs vs. Seahawks: Preview and Prediction for Mahomes vs. Wilson
A "swarm" of 28 NFL enthusiasts has predicted the winner.
by T.E. Andrews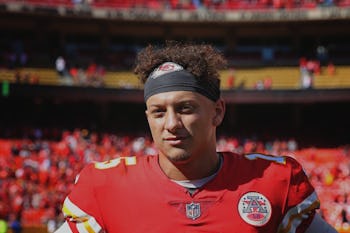 Scott Winters/Icon Sportswire
Christmas comes early this year when the Chiefs ride northwest to take on the Seahawks on Sunday Night Football. Both teams enter the contest with something to prove: the Chiefs have secured a playoff spot, but face a potential coup from within their own division, as the Chargers clipped Kansas City narrowly on Thursday Night Football last week and both teams are now tied at 11-3. For their part, the Seahawks had an opportunity to lock up a playoff spot against the 49ers last week, but choked away the game in overtime.
Prior to the setback against San Francisco, the Seahawks had won four in a row. Tonight's game gives dem 'Hawks a chance to prove they belong in the playoff picture. Even if they lose, they'll still have one last shot to make it in next week's game against the lowly Cardinals.
To predict the result of this Week 16 match-up, Unanimous A.I. used what's known as swarm intelligence. A "swarm" of 28 NFL enthusiasts worked together as a hive mind to make their prediction, and as you can see in the animation below, each participant controlled a golden magnet and used it to drag the puck toward the result they thought was the most likely outcome. This is where it gets interesting: As a user sees the puck move toward a particular decision, it triggers a psychological response. They might readjust their thinking as the group builds toward a consensus. It's an artificial intelligence, produced by human brains, working together as a swarm.
As the swarm replay above shows, the hive-mind of NFL experts has predicted that the Kansas City Chiefs will win — albeit it has chosen the "low confidence" option — against the Seattle Seahawks on Sunday.
The Chiefs play at the Seahawks at 8:20 p.m. Eastern Sunday on NBC.
Here's how Unanimous A.I. has predicted previous NFL games this season.
Unanimous A.I. has made some scarily accurate predictions in the past using swarm intelligence, as our this article explains. For instance, the swarm picked this year's Oscar winners with 94 percent accuracy. Here's Unanimous A.I. founder Louis Rosenberg explaining swarm intelligence at a recent TEDx Talk: