Who Will Win Vikings vs. Lions? A.I. Predicts
It's an artificial intelligence, produced by human brains, working together as a swarm.
by T.E. Andrews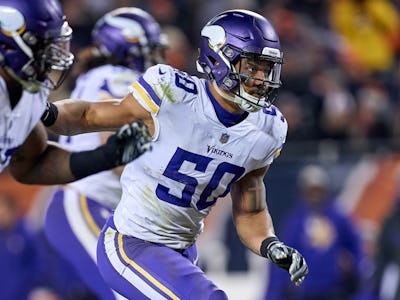 Robin Alam/Icon Sportswire
Can the Vikings hang on? At 7-6-1, the Vikings are just barely hanging on for the sixth and final wildcard spot in the NFC playoff picture. Minnesota has lost two of the past three after dropping games on the road against New England and Seattle, but rebounded last week by trouncing the Dolphins.
Fortunately for the Vikings, they get a road trip to Motown this weekend and a good chance to keep their playoff hopes alive. At 5-9, the Lions look like themselves, having lost three of their past four. If it weren't for the slight playoff implications posed by the Vikings' status as the second NFC wildcard team, this game would have lump of coal written all over it. The Vikings are on the road, but they have more to play for. Skol, Vikings. Vikings 24, Lions 17, is my prediction, but how does a hive-mind of NFL experts acting as an artificial intelligence predict this Week 16 match-up?
To predict the result of this Week 16 match-up, Unanimous A.I. used what's known as swarm intelligence. A "swarm" of 28 NFL enthusiasts worked together as a hive mind to make their prediction, and as you can see in the animation below, each participant controlled a golden magnet and used it to drag the puck toward the result they thought was the most likely outcome. This is where it gets interesting: As a user sees the puck move toward a particular decision, it triggers a psychological response. They might readjust their thinking as the group builds toward a consensus. It's an artificial intelligence, produced by human brains, working together as a swarm.
As you can see from the replay above, the swarm has low confidence that the Vikings will win on Sunday.
The Vikings play at the Lions at 1 p.m. Eastern Sunday on Fox.
Here's how Unanimous A.I. has predicted previous NFL games this season.
Unanimous A.I. has made some scarily accurate predictions in the past using swarm intelligence, as our this article explains. For instance, the swarm picked this year's Oscar winners with 94 percent accuracy. Here's Unanimous A.I. founder Louis Rosenberg explaining swarm intelligence at a recent TEDx Talk: