Seven Days With the Bose QuietComfort 35 Series II Headphones
Do these noise canceling wonders live up to the hype?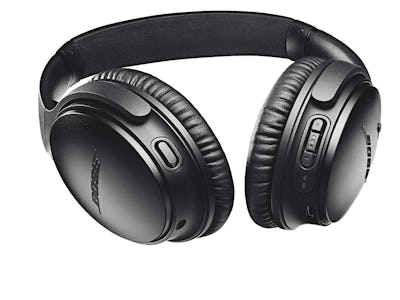 There is no end of aggressively-marketed bluetooth headphones out there, from fiddly, true-wireless earbuds to big honking over-ear monstrosities. One of the favorites for shoppers this holiday season is the Bose QuietBomfort 35 Series II headphones. And, it turns out, for good reason.
I usually prefer my headphones tiny and unobtrusive, the kind I can just shove into my back pocket when I'm not using them. But high on a cocktail of two beers and the overconfidence afforded to me by the Black Friday 2018 sales, I finally caved and bought a pair for a not-cheap $299.00.. Was it worth it? hell yes it was. Here's how I spent my first week with the best headphones I've ever owned.
- Product: Bose QuietComfort 35 (Series II) headphones
- Price: $299.00 (Was $349.99)
- Perfect for: Everyone with ears.
Tuesday
It's 8pm, it's freezing out, I have nowhere to go, and I'm tearing open the box to my new headphones so I can take them out for a spin. First impression? These bad boys are light at just a couple of ounces. They fit well, they feel sturdy, but they're also not uncomfortable or heavy. I wander around my neighborhood for about half an hour trying out all kinds of different genres of music, and they all sound good; These are Bose headphones, after all, and I wouldn't know "high fidelity" if it slapped me across the face, but am sure any and every everyday user of headphones would find these exceptionally clear.
Wednesday
The pairing on these headphones is a dream. It recognizes both my phone and my laptop, and switching between them is easy enough. Bose's proprietary iPhone app lets me rename my headphones for quicker identification, and the built-in voice assistant tells me my battery percentage and which device I'm connected to the minute I turn them on.
Thursday
I demonstrate the noise cancellation capabilities of the headphones to some friends in a crowded bar, They are very impressed but may just be acting polite, since nobody wants to discuss your new headphones on a Friday night in a bar.
An added bonus I have discovered: The over-ear comfort and warmth of the headphones mean I haven't had to bother with a hat this week, even in the cold-ass weather.
Friday
Friends in the bar were definitely not just acting polite. The noise cancellation rips. I'm on a road trip with a few people. The stereo's blasting, everyone's talking over each other and I decide to zone out for a while. Even before I hit play on my music, the active noise cancellation makes the music sound like it's coming from outside the car, and the conversation goes from "deafening" to "quiet huddle of friends a few feet away from me." I whack on a playlist and fully dissociate from the group.
Saturday
I have to do some work while staying in a remote cabin upstate with my friends. The headphones not only keep me in the zone, but aesthetically give off an unmistakeable "leave me alone" look, which they do.
Sunday
Before we pile back into the car and delve back into the grey awful city where we inexplicably choose to live in, I find a quiet spot in the woods, turn my headphones on, close my eyes, and try to experience true silence for a few moments. The sunlight hits my face while I listen to my own breathing. It's all very Buddhist and lame and I adore every second of it.
Monday
I'm a completist, so I've been in a mad sprint to watch pretty much every 2018 movie I can get my hands on before the end of the year. Tonight it's an unlikely Minding The Gap and The Predator double feature. Movies are simply better through these headphones. The dialogue is easy to hear even over the most insane explosion sequences, and nothing is ever too loud, thanks to the ANC. When the credits roll I take off my headphones and return to the real world, a little annoyed I have to at all.
Conclusion
Literally the only reason you should ever hesitate to buy the QuietComfort 35s is their price. But this isn't an ordinary pair of headphones: It's an investment in years of better sound, better immersion in your favorite music/films/TV, and not having to shove those uncomfortable silicone tips in your ear holes ever again. I am a full-on over-ear headphones convert, and I'm never going back.