Chargers at Chiefs Predictions: Full Preview of Rivers vs. Mahomes Match-Up
A hive-mind of NFL experts has predicted the winner for this Week 15 match-up.
by T.E. Andrews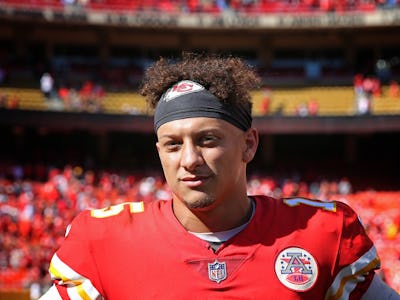 Scott Winters/Icon Sportswire
We are in for a treat tonight. The battle for control of the AFC West rages when the Chargers square up against the Chiefs tonight on Thursday Night Football. At 11-2, Kansas City has already locked up a playoff spot, but at 10-3, the Chargers are just a game behind. Both of these teams come into this game on a hot streak, as the Chiefs rebounded from their Week 11 loss to the Rams by winning two in a row against the Raiders and the Ravens, while the Chargers have won three in a row after their own Week 11 loss to the Broncos.
The difference may well come under center, where Los Angeles starts grizzled gunslinger Philip Rivers. However, for all of his talents, Rivers remains but a man, while Kansas City has Patrick Mahomes, who is a Martian. Mahomes has dazzled the league with a barrage of highlight-worthy plays during his MVP-caliber campaign this season, but saved some of his most insane moments for last week's game against the Ravens, in which he showed off his ability to sling no-look passes downfield as though he were Steve Nash on the Seven Seconds or Less Suns, or perhaps Magic Johnson on the Showtime Lakers (Mahomes later credited his basketball-playing days as inspiration for his no-look passing). He also uncorked this beauty of a throw by rolling right under heavy duress, then throwing the ball across his body over the middle of the field for another long completion.
These are all things coaches tell normal QBs not to do, because normal quarterbacks are humans, and not Patrick Mahomes. In case we didn't make this clear: regular people (even NFL quarterbacks!) cannot do this. No-Look Mahomes scoffs at the normal rules of physics – he considers them mere guidelines. It also helps that Mahomes has receiver Tyreek Hill to catch his sandlot bombs, who is in the midst of an historic season for Kansas City.
Mahomes is better throwing the ball without looking than some quarterbacks are with both eyes. Maybe Mark Sanchez should give it a try. Just kidding, Mark – focus on maintaining butt possession of the football, and not giving the ball to the other team. Meanwhile, it's a coin toss regarding whether the Chargers will take the field without the services of both star running back Melvin Gordon and his backup.
What does it all add up to? The Chiefs taking another step towards securing home-field advantage throughout the playoffs. Chiefs 30, Chargers 23 is my prediction, but how does a hive-mind of NFL experts see this game ending up?
To predict the result of this Week 15 match-up, Unanimous A.I. used what's known as swarm intelligence. A "swarm" of 33 NFL enthusiasts worked together as a hive mind to make their prediction. As you can see in the animation below, each participant controlled a golden magnet and used it to drag the puck toward the result they thought was the most likely outcome. This is where it gets interesting: As a user sees the puck move toward a particular decision, it triggers a psychological response. They might readjust their thinking as the group builds toward a consensus. It's an artificial intelligence, produced by human brains, working together as a swarm.
As you can see in the animation above, the swarm has low confidence that Kansas City will win on Thursday.
The Chargers play at the Chiefs at 8:20 p.m. Eastern Thursday on Fox.
Here's how Unanimous A.I. has predicted previous NFL games this season.
Unanimous A.I. has made some scarily accurate predictions in the past using swarm intelligence, as our this article explains. For instance, the swarm picked this year's Oscar winners with 94 percent accuracy. Here's Unanimous A.I. founder Louis Rosenberg explaining swarm intelligence at a recent TEDx Talk: