Who Will Win Ravens vs. Chiefs? A.I. Predicts Winner of Jackson vs. Mahomes 
How does a hive-mind of NFL experts see this one turning out?
by T.E. Andrews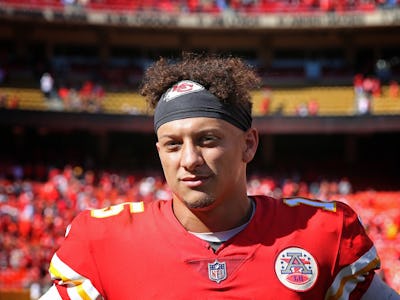 Scott Winters/Icon Sportswire
Dear John (Harbaugh): please start Lamar Jackson. The Baltimore Ravens are undefeated in their last three games after turning to the rookie signal-caller.
However, head coach John Harbaugh may have a difficult decision to make this week due to the improved health of longtime starter Joe Flacco. We are here to implore Coach Harbaugh to continue starting Jackson, as he has helped Baltimore control the clock, gain a decisive advantage in time of possession, and keep opposing offenses off the field. More importantly, he's fun to watch, unlike Boring Joe Flacco.
Even with the NFL's No. 1 defense, the Ravens will need to play keep-away when they fly into Arrowhead Stadium on Sunday to face off against the high-powered Kansas City offense and quarterback sensation Patrick Mahomes, who continues to enjoy a potential MVP-caliber, record-breaking season. With Mahomes under center, the Chiefs are 10-2, good for first place in the AFC West and the AFC writ large (although the Patriots (as always) and the Texans (surprisingly) lurk a game behind). Vegas favors the Chiefs by 6.5 points.
That sounds about right, even if Kansas City will play without the services of Kareem Hunt, who the team released after video emerged of a horrifying incident in which Hunt shoved and kicked a woman. Chiefs 31, Ravens 23 is my prediction, but how does a hive-mind of NFL experts see this one turning out?
To predict the result of this Week 14 match-up, Unanimous A.I. used what's known as swarm intelligence. A "swarm" of 32 NFL enthusiasts worked together as a hive mind to make their prediction. As you can see in the animation below, each participant controlled a golden magnet and used it to drag the puck toward the result they thought was the most likely outcome. This is where it gets interesting: As a user sees the puck move toward a particular decision, it triggers a psychological response. They might readjust their thinking as the group builds toward a consensus. It's an artificial intelligence, produced by human brains, working together as a swarm.
The swarm has high confidence that Kansas City will win at home against the Ravens.
The Ravens play at the Chiefs at 1 p.m. Eastern Sunday on CBS.
Here's how Unanimous A.I. has predicted previous NFL games this season.
Unanimous A.I. has made some scarily accurate predictions in the past using swarm intelligence, as our this article explains. For instance, the swarm picked this year's Oscar winners with 94 percent accuracy. Here's Unanimous A.I. founder Louis Rosenberg explaining swarm intelligence at a recent TEDx Talk: