Who Will Win Patriots vs. Dolphins? A.I. Predicts 
A "swarm" of 35 NFL enthusiasts worked together as a hive mind to make their prediction.
by T.E. Andrews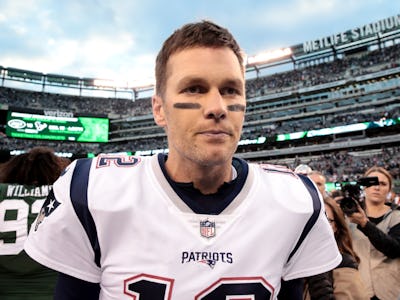 Joshua Sarner/Icon Sportswire
Oh no, it's happening again. No, God, please no. Nooooo!!Once again, the Patriots are 9-3 and sitting pretty atop the standings in the AFC East after overcoming some early-season struggles. New England is once again rounding into dreaded playoff form and with only four games remaining against the Dolphins, Steelers, Bills, and Jets (which looks like 3-1 to our eyes, at the worst), appears likely to once again finish with a 12-4 record (or better) and lock down a first-round bye, if not home-field advantage throughout the playoffs. Barf.
The only thing standing between the Patriots and yet another deep run through the AFC playoff bracket could be this weekend game in Miami, where the UGG-ly GOAT is only 7-9 for his career. Perhaps the recent 1,000-yard rusher will finally decide to ride off into the sunset and give someone else from the AFC a chance to make the Super Bowl. Please excuse us while we attempt to curse Tahm Brady with our ouji board and stick needles into his voodoo doll.
The Dolphins are second in the division, but at 6-6, pose no real threat to New England. Sin City favors the Patriots by 7.5 points, which sadly, sounds about right. Patriots 27, Dolphins 20 is my prediction, but how does a hive-mind of NFL experts see this one turning out?
To predict the result of this Week 14 match-up, Unanimous A.I. used what's known as swarm intelligence. A "swarm" of 35 NFL enthusiasts worked together as a hive mind to make their prediction. As you can see in the animation below, each participant controlled a golden magnet and used it to drag the puck toward the result they thought was the most likely outcome. This is where it gets interesting: As a user sees the puck move toward a particular decision, it triggers a psychological response. They might readjust their thinking as the group builds toward a consensus. It's an artificial intelligence, produced by human brains, working together as a swarm.
The swarm has high confidence the Patriots will beat the Dolphins, as the animation above shows.
The Patriots play at the Dolphins at 1 p.m. Eastern Sunday on CBS.
Here's how Unanimous A.I. has predicted previous NFL games this season.
Unanimous A.I. has made some scarily accurate predictions in the past using swarm intelligence, as our this article explains. For instance, the swarm picked this year's Oscar winners with 94 percent accuracy. Here's Unanimous A.I. founder Louis Rosenberg explaining swarm intelligence at a recent TEDx Talk: