Who Will Win Giants vs. Redskins? A.I. Predicts
A "swarm" of 28 NFL enthusiasts worked together as a hive mind to make their prediction.
by T.E. Andrews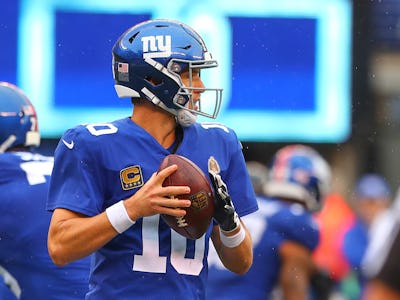 Rich Graessle/Icon Sportswire
Have arm? Will travel? If you are a living, breathing football fan and have even a decent arm, consider reaching out to the Redskins, who are in such dire straits at quarterback, they inserted infamous Butt Fumbler and living meme Mark Sanchez into last week's loss to the Eagles on Sunday Night Football. Yes, that is a real sentence in the Year of Our Lord 2018.
Sanchez came on in relief for the injured Colt McCoy, who exited the game after suffering a broken leg, just weeks after the team lost starter Alex Smith to yet another broken leg. Sanchez eventually went 13-21 for a hundred yards, an interception, and no touchdowns. If Washington needed someone to get sacked twice and throw a pick without scoring, they should've asked me—I could have done the same, and for half the price. Then again, Sanchez pulled off a Butt Fumble Recovery in last week's game. Maybe he's changed and learned from his mistakes. But somehow, we doubt it.
If only there was a quarterback available on the free-agent market. Perhaps someone who won a conference title game and went to a Super Bowl. Hmm… Nope, no one like that out there. Instead, like the last person in line at a barbeque joint, the Redskins have found only slim pickin's, having scraped the bottom of the free-agent barrel to sign… Josh Johnson. Yowzas.
Three weeks ago, Washington was 6-3 and looked poised to take the NFC East division crown. After back-to-back-to-back losses, however, the Redskins have slipped to 6-6. The more they tighten their grip, the more the division slips between their fingers.
Meanwhile, the Giants are 4-8, but recently knocked off the Bears in last week's overtime thriller. Star receiver Odell Beckham Jr. only caught three balls for 35 yards (although one of them went for a touchdown), but he also showed off his arm, throwing a 49-yard touchdown pass to Saquon Barkley. Let the dragon breathe, baby. Whatever you do, just don't question his heart. Or his effort.
Even though it's been another forgettable season for New York, the Giants have won three of their last four games and look to have the upper hand in this matchup. This is less a vote of confidence "for" the Giants, and more of bet against Washington, and specifically, Mark Sanchez. As Jets fans, we've seen that movie, and we know how it ends – it's a tragedy. Everyone dies. Short the 'Skins. Giants 23, Redskins 13 is my prediction, but how does a hive-mind of NFL experts see this one turning out?
To predict the result of this Week 14 match-up, Unanimous A.I. used what's known as swarm intelligence. A "swarm" of 28 NFL enthusiasts worked together as a hive mind to make their prediction. As you can see in the animation below, each participant controlled a golden magnet and used it to drag the puck toward the result they thought was the most likely outcome. This is where it gets interesting: As a user sees the puck move toward a particular decision, it triggers a psychological response. They might readjust their thinking as the group builds toward a consensus. It's an artificial intelligence, produced by human brains, working together as a swarm.
The swarm has low confidence the Giants will defeat Washington.
The Giants play at Washington at 1 p.m. Eastern Sunday on Fox.
Here's how Unanimous A.I. has predicted previous NFL games this season.
Unanimous A.I. has made some scarily accurate predictions in the past using swarm intelligence, as our this article explains. For instance, the swarm picked this year's Oscar winners with 94 percent accuracy. Here's Unanimous A.I. founder Louis Rosenberg explaining swarm intelligence at a recent TEDx Talk: