Falcons vs. Packers: Preview of Matt Ryan vs. Aaron Rodgers Match-Up
A "swarm" of 28 NFL enthusiasts worked together as a hive mind to make their prediction.
by T.E. Andrews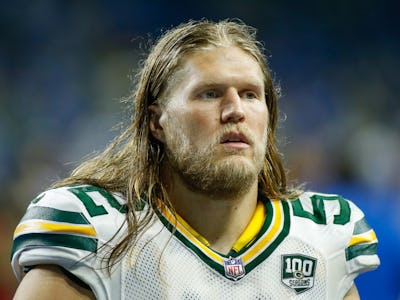 Scott W. Grau/Icon Sportswire
Ooof. Not a lot to play for in this game. The Falcons fly north to take on the Packers at Lambeau Field in this snoozer, as both teams find themselves in the middle of forgettable seasons and/or regime change. The Falcons are 4-8, dead last in the NFC South, while the Packers are 4-7-1, with a half-game "lead" over the Detroit Lions in the "race" to not be the last-place team in the NFC North.
Green Bay made headlines last weekend by announcing that it and head coach Mike McCarthy were going their separate ways. We can only hope imagine there was as much air guitar and synthesizer in real life as there is in this Journey music video. In keeping with growing impatience in the what-have-you-done-for-me-lately NFL these days, the Packers dropped the hammer on McCarthy mid-season, instead of waiting until season's end to let the guillotine fall. Everyone wants a Boy Wonder these days, but demand far outstrips supply.
Which brings us to this week's game. Both of these teams are criminally wasting the talents of their quarterbacks, but none more so than the Packers, who have the luxury of fielding an in-his-prime Aaron Rodgers under center, and yet have nothing to show for it. Perhaps interim coach Joe Philbin can open things up on offense. Packers 27, Falcons 23 is my prediction, but how does a hive-mind of NFL experts see this one turning out?
To predict the result of this Week 14 match-up, Unanimous A.I. used what's known as swarm intelligence. A "swarm" of 28 NFL enthusiasts worked together as a hive mind to make their prediction. As you can see in the animation below, each participant controlled a golden magnet and used it to drag the puck toward the result they thought was the most likely outcome. This is where it gets interesting: As a user sees the puck move toward a particular decision, it triggers a psychological response. They might readjust their thinking as the group builds toward a consensus. It's an artificial intelligence, produced by human brains, working together as a swarm.
The swarm has low confidence that the Green Bay Packers win at home against the Falcons.
The Falcons play at the Packers at 1 p.m. Eastern Sunday on Fox.
Here's how Unanimous A.I. has predicted previous NFL games this season.
Unanimous A.I. has made some scarily accurate predictions in the past using swarm intelligence, as our this article explains. For instance, the swarm picked this year's Oscar winners with 94 percent accuracy. Here's Unanimous A.I. founder Louis Rosenberg explaining swarm intelligence at a recent TEDx Talk: