#ILookLikeAnEngineer Is a Brilliant Celebration of Women in Engineering
A silly little hashtag that's not so silly.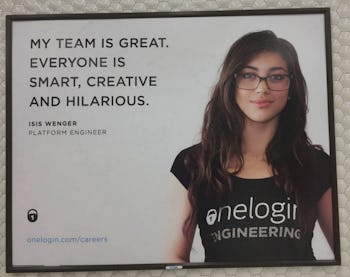 onelogin.com
Isis Anchaleed is a full-stack engineer at OneLogin and, by her own account, something of an introvert. When she was asked to be part of a recruiting campaign, she didn't expect anything beyond her face appearing in some bland corporate artwork.
Then the ads went out and HOLY SHIT IT'S A GIRL THREAT LEVEL MIDNIGHT THREAT LEVEL MIDNIGHT!
Not even kidding you. Here's what one reviewer said of Anchaleed's ad after collecting his blown mind over the lack of penises:
This is some weird haphazard branding. I think they want to appeal to women, but are probably just appealing to dudes. Perhaps that's the intention all along. But I'm curious people with brains find this quote remotely plausible if women in particular buy this image of what a female software engineer looks like. Idk. Weird.
As she writes at Medium:
Is it so unheard of that I genuinely care about my teammates? Some people think I'm not making "the right face." Others think that this is unbelievable as to what "female engineers look like." News flash: this isn't by any means an attempt to label "what female engineers look like." This is literally just ME, an example of ONE engineer at OneLogin. The ad is supposed to be authentic. My words, my face, and as far as I am concerned it is.
Preach, Anchaleed. Here's a few more women celebrating all the other faces and shapes that look like engineers. Not that you need to be reminded, because you know better, right?