'Faster, Pussycat! Kill! Kill!' Still Shocks 50 Years Later
Remembering Russ Meyer's desert sexploitation classic on its birthday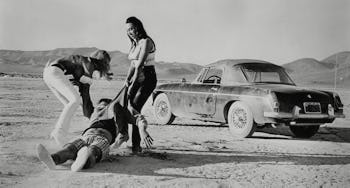 In an interview Russ Meyer gave while touring with a rare print of his most famous film, Faster, Pussycat! Kill! Kill! in 1998, the controversial director shrugged off his feminist street cred. "I made another film prior to that in which I had men kicking the shit out of the women," he pointed out. "So I thought, 'Why don't we do one where the women kick the shit out of the men?'"
Despite his lackadaisical tone, Meyer gets at why Pussycat, out of all of his movies, has received the most attention and is dubbed the "one you are supposed to see" (He himself preferred works like his oddball sequel to the '60s horror film Valley of the Dolls). Though the previous year's Lorna had been a fascinating and stark portrait of a woman's sexual liberation, Pussycat was the film where Meyer's unique vision and signature style — the elements that garnered him, retroactively, significant critical praise and a cult fanbase — seemed to click into place
Watching the film today, it's still amazing to see the bizarre, high-concept things Meyer did in the guise of sexploitation ("nudie film," as it was sometimes called, though Pussycat, unlike other Meyer flicks, actually features no nudity). It's easy to understand, too, why his low-budget, low-exposure films grossed so much more than that of his contemporaries. Meyer flips archetypes of '40s and '50s Hollywood dramas on their head skillfully, with the help of a screenplay that instantly engages the viewer. The male characters are the ineffective one-dimensional figures who function only to lust after the women, and the three female leads are the ones able to effect action — by far the most powerful characters. They get handed the snappy one-liners ("What? Do people look better to you when they're horizontal?"), drive cars as well as anyone in the Fast and the Furious series, and in the case of inimitable star and exotic dancer Tura Satana — who had a major role in defining the direction of the film, and improvised some of her dialogue — prefer to handle their adversaries with mixed martial arts.
Pussycat also possesses an arresting and strange visual sensibility and is jam-packed with laugh-out-loud double entendres ("You've got two of everything, and some left over") and perverse weird-out humor that would lay the groundwork for trash film auteur John Waters' career. Waters, famously, called Pussycat "beyond a doubt, the best movie ever made." Meyer picked only the weirdest angles to stage his characters' standoffs: Usually they were shot crookedly from underneath, obscuring logical geography. This style would be aped by Quentin Tarantino in Death Proof (the director acknowledged his debt to Meyer and also attempted to mount a remake of Pussycat in the late '00s).
Meyer's crowning achievement truly deserves its reputation. It never drags, eschews structural conventions that might help you predict what's going to happen next, and features nothing but memorable characters. There's the woman-hating, train-obsessed father of the eerie desert homestead; his submissive, simpering, do-gooder son (to Santana: "You're a beautiful animal, and I'm weak and I want you"); and Billie — a warped take on the stereotypical blonde bombshell — who delivers the wildest wisecracks.
The colorful cast helps the film turn borderline Theater of the Absurd. Think Harold Pinter meets Mickey Spillane: Motivations are obscure, communication is only half-cogent, and everyone is driven by their bare ids. As Santana's Varla puts it, they each want "everything, or as much as [they] can get." Here, violence is sex, sex is power, and power is all that the film delivers, start to finish.