Who Will Win Redskins vs. Eagles? A.I. Predicts Winner of NFC East Battle
A "swarm" of 36 NFL enthusiasts have worked together as a hive mind to make their prediction.
by T.E. Andrews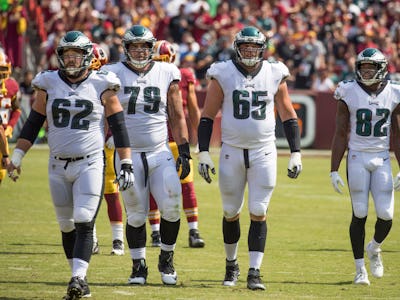 Flickr / Keith Allison
This game is the battle for second place in the tightly contested NFC East – the division no one wants to win.
We don't want to pick the untrustworthy Eagles, who have burned us multiple times this season with their uninspired play, but the alternative requires riding with Colt McCoy, who took over under center after previous starter Alex Smith suffered a broken leg (and potential end to his career) in Week 11's loss to the Texans. Unbelievably, Philadelphia still has yet to string together back-to-back wins this season after winning the Super Bowl last year, despite the individual brilliance of tight end Zach Ertz, who may be having the best season by a tight literally ever.
Even so, the sliding Eagles discovered a panacea for losing last week by playing the sorry Giants. Before the game, safety Malcolm Jenkins showed some fight by delivering one of the best pregame speeches in recent history. Mr. Jenkins' speech inspired us so much, we managed to gut out this preview despite a papercut and hangnail.  
The Eagles' woes are hard to understand given the sheer amount of talent on their roster. Rookie running back Josh Adams has emerged as yet another potential playmaker in Philadelphia's backfield. Given Smith's injury, the Redskins' two-game losing streak, and the number of playmakers remaining on the Eagles' roster, we'll take the Eagles. But we've got a bad feeling about this. Eagles 24, Redskins 20 is my prediction, but how do a hive-mind of NFL experts predict this one turning out?
To predict the result of this Week 13 match-up, Unanimous A.I. used what's known as swarm intelligence. A "swarm" of 36 NFL enthusiasts worked together as a hive mind to make their prediction. As you can see in the animation below, each participant controlled a golden magnet and used it to drag the puck toward the result they thought was the most likely outcome. This is where it gets interesting: As a user sees the puck move toward a particular decision, it triggers a psychological response. They might readjust their thinking as the group builds toward a consensus. It's an artificial intelligence, produced by human brains, working together as a swarm.
Asa you can see, the swarm has low confidence that the Eagles will win at home in South Philly on Monday.
Washington plays at the Eagles at 8:15 p.m. Eastern Monday on ESPN.
Here's how Unanimous A.I. has predicted previous NFL games this season.
Unanimous A.I. has made some scarily accurate predictions in the past using swarm intelligence, as our this article explains. For instance, the swarm picked this year's Oscar winners with 94 percent accuracy. Here's Unanimous A.I. founder Louis Rosenberg explaining swarm intelligence at a recent TEDx Talk: