Who Will Win Rams vs. Lions? Predictions for Geoff vs. Stafford Battle
A "swarm" of 36 NFL enthusiasts worked together as a hive mind to make their prediction.
by T.E. Andrews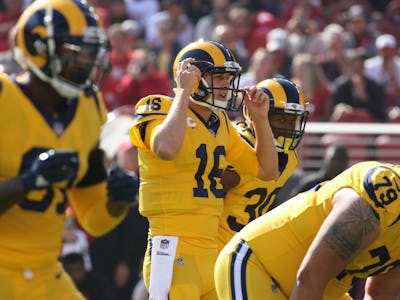 Corey Silvia/Icon Sportswire
The only real reason to watch this game is to see whether the Rams can hang 70 on Detroit. This game is another top-vs-bottom affair in which the Rams, the runaway leaders of the NFC West, bound north to bury the toothless Lions, resident cellar-dwellers of the NFC North.
Aside from their Week 9 loss to the Saints (no great shame, given that the 10-1 Saints haven't lost since September and are the class of the NFC), the 10-1 Rams have a nearly flawless record and have been putting points on the board at the blistering clip of 35.4 points per game, good for third-best in the NFL. Of course, Los Angeles' defense has been as ineffective as its offense is excellent, surrendering 35, 31, and 51 (!) points in its last three games. Then again, maybe it's not as bad as it seems.
Help may also be on the way in the form of the return of Aqib Talib, the Rams' star cornerback and five-time Pro Bowler. A healthy Talib could provide a much-needed spark and help shore up the Rams' leaky secondary.
With the Lions losing four of their last five games (aside from a surprising 20-19 win over the Panthers two weeks ago), the hits just keep coming for Motown. The Lions remain hard to watch and difficult to write about. With Detroit as a 10-point dog, Sunday's game should serve as tune-up before the Rams head to the Windy City to face the Bears. Rams 38, Lions 27 is my prediction, but how does a swarm of NFL experts predict this match-up turning out?
To predict the result of this Week 13 match-up, Unanimous A.I. used what's known as swarm intelligence. A "swarm" of 36 NFL enthusiasts worked together as a hive mind to make their prediction. As you can see in the animation below, each participant controlled a golden magnet and used it to drag the puck toward the result they thought was the most likely outcome. This is where it gets interesting: As a user sees the puck move toward a particular decision, it triggers a psychological response. They might readjust their thinking as the group builds toward a consensus. It's an artificial intelligence, produced by human brains, working together as a swarm.
As you can see in the animation above, the swarm has high confidence than the Rams will win on the road against Detroit on Sunday.
The Rams play at the Lions at 1 p.m. Eastern Sunday on Fox.
Here's how Unanimous A.I. has predicted previous NFL games this season.
Unanimous A.I. has made some scarily accurate predictions in the past using swarm intelligence, as our this article explains. For instance, the swarm picked this year's Oscar winners with 94 percent accuracy. Here's Unanimous A.I. founder Louis Rosenberg explaining swarm intelligence at a recent TEDx Talk: