Who Will Win Chiefs vs. Raiders? A.I. Predicts
A "swarm" of 28 NFL enthusiasts worked together as a hive mind to make their prediction.
by T.E. Andrews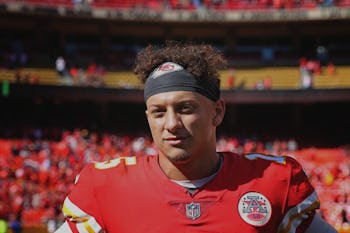 In keeping with the good-versus-bad theme of this week's slate of games, the team to beat in the AFC faces the bottom-feeder of the AFC West. With the Chiefs at 9-2 and the Raiders at 2-9, the only real reason to watch this game is to see whether Kansas City can hang 100 on Oakland.
If there's any silver (and black) lining for embattled Oakland quarterback Derek Carr, it's that the Chiefs do most of their damage on on offense, not defense, and Carr won't have to face linebacker Matthew Judon this week, who sacked Carr on three (!!!) consecutive plays during last week's 34-17 loss to the Ravens. Don't worry, Raiders fans – only nine more years to go with Jon Gruden at the helm. Gruden has spent his first season as head coach as something akin to the opposite of King Midas – everything he touches turns to ash.
To make matters worse for the Silver and Black, the Chiefs may soon receive the returned services of difference-maker Eric Berry, who has made five Pro Bowls during his nine seasons with Kansas City. Hoo boy. That Eric Berry – he's so scary. Just don't ask him to mess with horses, bruh. Mr. Berry's return can't come soon enough to help stop the bleeding on Kansas City's defense, which hemorrhages points at a clip of 26.7 per game, good for fifth-worst in the NFL. Most recently, the Chiefs put up 51 points against the Los Angeles Rams – and lost, because their defense gave up 54.
In sum, the Chiefs continue to torch NFL defenses, while the Gruden-"led" Raiders continue to make history for all the wrong reasons. There's a reason why Oakland is a 15-point home underdog – the largest spread against the Raiders in two decades. Sometimes football is complicated, and sometimes, it's not. Chiefs 35, Raiders 14 is my prediction, but how do a hive-mind of NFL experts predict this one turning out?
To predict the result of this Week 13 match-up, Unanimous A.I. used what's known as swarm intelligence. A "swarm" of 28 NFL enthusiasts worked together as a hive mind to make their prediction. As you can see in the animation below, each participant controlled a golden magnet and used it to drag the puck toward the result they thought was the most likely outcome. This is where it gets interesting: As a user sees the puck move toward a particular decision, it triggers a psychological response. They might readjust their thinking as the group builds toward a consensus. It's an artificial intelligence, produced by human brains, working together as a swarm.
As the animation above shows, the swarm has high confidence in Chiefs victory on Sunday.
Here's how Unanimous A.I. has predicted previous NFL games this season.
Unanimous A.I. has made some scarily accurate predictions in the past using swarm intelligence, as our this article explains. For instance, the swarm picked this year's Oscar winners with 94 percent accuracy. Here's Unanimous A.I. founder Louis Rosenberg explaining swarm intelligence at a recent TEDx Talk: