This Weekend Get 30 Percent Off the Ultimate Winter Boots
The Danner Vertigo Boot is stylish but rugged.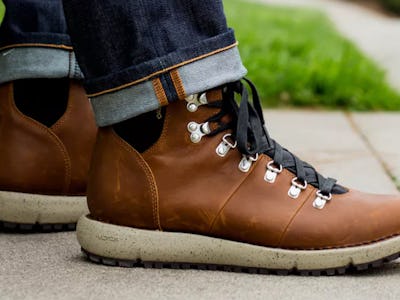 Our favorite lifestyle site Huckberry has some amazing Black Friday and Cyber Monday deals live right now, and a lot of them are gonna run right through to Tuesday. Still, we couldn't help but taken in by this one particular deal for some of the nicest winter boots we've ever seen at a price we've never seen.
The Danner Vertigo 917 looks more expensive than it is, and, honestly? It probably should be more expensive than it is. Made from premium full grain leather which promotes waterproofing and unmatched durability, they also just look gorgeous. The Vibram® 917 outsole is designed specifically to keep a good grip in wet, cold, snow, and icy conditions, and the breathable but waterproof liners mean you'll never suffer from "foot in oven" syndrome, while also never experiencing "Oh god it's like my feet are in a bucket of ice water" syndrome.
At $220, these are a steal for all-weather boots that will last years, but right now you can go one further and get them for $187 in any size. While you're at it, why not check out some other amazing Huckberry deals while they last?