Get $50 Off the Best Headphones in the World This Cyber Monday Week
The Bose QuietComfort 35 headphones are unbeatable.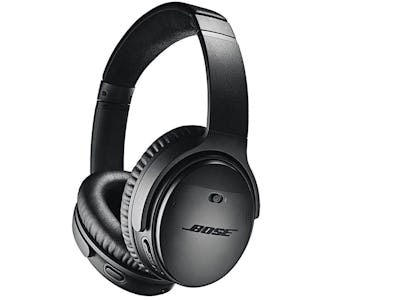 It is a truth universally acknowledged that Bose make the best dang sound equipment around, and its noise-canceling QuietComfort headphones product line is no exception. A lot of brand names suck you in with elaborate design and little to distinguish their products from the much cheaper versions (cough Beats cough) but in the case of Bose, you truly get what you pay for.
The Beats QuietComfort 35 headphones have something of a price tag, but there's a $50 price drop on all models not just this Cyber Monday, but the entire week, making this one of the most significant discounts the company has announced in years.
The QuietComfort 35 (Series II) headphones utilize the latest Bluetooth technology for clear, deep sound with zero delay. A battery life of 20 hours means you won't run out of juice when you're not expecting it, and a sturdy design and futureproof tech within means you won't need to buy another pair of premium headphones for a long, long time. These bad boys are worth the splurge this holiday.
You can pick up a pair (or two — Christmas is right around the corner) right here, right now.