This Casual Dress Watch Is a Great Gift This Christmas
It also happens to be the same one worn in Jaws.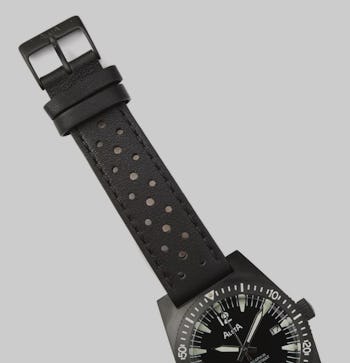 Huckberry
The holidays are quickly approaching and if you don't know what to get your brother, friend, boyfriend, etc. yet, we want to help you out. All you have to do is listen to this helpful tip: You can never go wrong with gifting a luxurious watch.
There are tons of different watches on the market, some smart, some not, some thousands of dollars, some hundreds. But we can guarantee this timepiece from Alsta is different than any of those accessories out there.
For one, it's the same watch Richard Dreyfuss wore in Jaws, just upgraded. Whether you have someone in your life that loves the 1975 thriller or not, the Nautoscaph III has a backstory and history that most other products don't. And that's pretty awesome in itself.
Unlike the silver version seen in the film, this one has a sleek black stainless steel PVD case. It still features the same diving capabilities up to 300 m, and with Super-LumiNova painted on indices and hands, you won't have any trouble reading the time underwater or at night.
Not yet convinced? The price of this baby might help. While other popular watch brands sell their products for thousands of dollars, the Nautoscaph III is just $879.00. Better yet, it's currently on sale for $699.98. But you need to act fast, as Alsta has only created 50. So if you're able to scoop up one of them, you'll be one of a select few with such a unique, beautiful piece. Just don't go hunting any sharks.