Get 50 Percent Off the Best Pants in the World
No, really, you'll never go back after trying the Nomad Proof collection.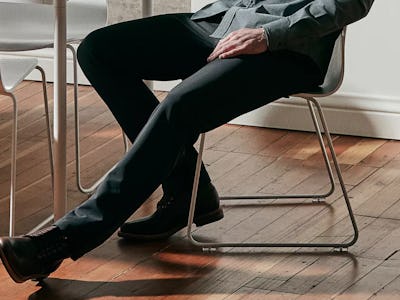 The general consensus around Black Friday and Cyber Monday is that the deals are tech-focused. Cheap Headphones or cheap TVs. Out favorite lifestyle shopping site, Huckberry, instead offers amazing clothing and outdoor gadgets, and right now they're having their biggest sale ever. The best of the best today? Its Proof Nomad pants collection, the best pants in the world.
No really, I love these pants with all my heart, and you can get them for 30 percent off right now. Made from a four-way stretch fabric, these pants not only look great with anything from a t shirt to a suit and tie, but they're designed for serious heavy use as well. The special fabric repels water spills (as well as coffee and beer stains) and won't wear out even if you put these bad boys on every day.
The pockets are sturdy and deep, so your phone won't wriggle out during a movie or a cab ride, and they look incredible. I'm a fan of the dark blue and grey pairs, but there's something for everyone. I know it's kind of insane to write this much about a pair of pants, but that's how good these things are, and I'm not even mad I paid full price for them when you can get them for less than $50.
Normally $98.00, you can become the latest member of the Nomad by Proof cult and get a pair for just $49 as part of Huckberry's insane Black Friday sale. Don't miss out.