Who Wins Steelers vs. Jaguars? A.I. Predicts
How do a hive-mind of NFL experts see this one turning out?
by T.E. Andrews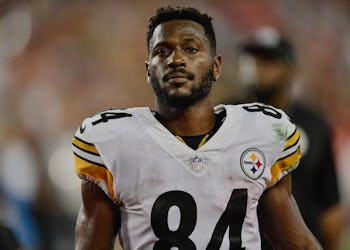 Roy K. Miller/Icon Sportswire
These two teams are headed in opposite directions. The Steelers ride a five-game winning streak south Sunday to pick on the Jags in this north-versus-south matchup of AFC teams. At 6-2-1, Pittsburgh has once again reasserted control as a marauding band of corsairs at the top of the AFC North, while the 3-6 Jaguars cower at the bottom of the AFC South.
Not content to plunder their opponents, the Stealers Steelers have taken to looting the quarters of their former teammate, all-world running back Le'Veon Bell, who has dominated headlines throughout the NFL this season due to his protracted holdout from the team.
Ironically-named Pittsburgh linebacker "Bud" Dupree went so far as to swipe not one, but two pairs of Bell's Jordan brand cleats. Man, they took the dude's Jordans. Some things you just don't do to another man — it ain't right. Le'Veon: they're not your buddies, guy. The Steelers' locker room is a den of thieves and cutthroats.
Meanwhile, the Jags started 3-1, but in the words of a Florida man (not THE infamous Florida Man, are now free, free fallin' (RIP, Mr. Petty), having since dropped five in a row. Things became spicier in this rivalry after Jacksonville swept both games last season, but 2018 has declawed this incarnation of the Jags. Steelers 27, Jags 20 is my prediction, but how do a hive-mind of NFL experts see this one turning out?
To predict the result of this Week 11 match-up, Unanimous A.I. used what's known as swarm intelligence. Some 28 NFL enthusiasts worked together as a hive mind to make their prediction. As you can see in the animation below, each participant controlled a golden magnet and used it to drag the puck toward the result they thought was the most likely outcome. This is where it gets interesting: As a user sees the puck move toward a particular decision, it triggers a psychological response. They might readjust their thinking as the group builds toward a consensus. It's an artificial intelligence, produced by human brains, working together as a swarm.
As the animation above shows, the swarm thinks that Pittsburgh is going to win against Jacksonsville, but appears split between selecting the option of "high confidence" and "low confidence."
The Steelers play at the Jaguars at 1 p.m. Eastern Sunday on CBS.
Here's how Unanimous A.I. has predicted previous NFL games this season.
Unanimous A.I. has made some scarily accurate predictions in the past using swarm intelligence, as our this article explains. For instance, the swarm picked this year's Oscar winners with 94 percent accuracy. Here's Unanimous A.I. founder Louis Rosenberg explaining swarm intelligence at a recent TEDx Talk: