Who Wins Vikings vs. Bears? A.I. Predicts
Unanimous A.I. used what's known as swarm intelligence to predict the result of this Week 11 game.
by T.E. Andrews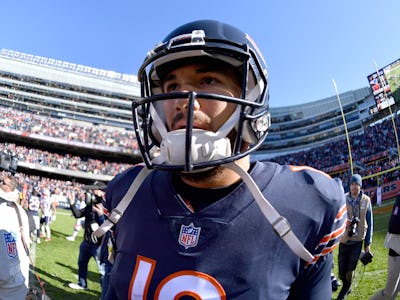 Robin Alam/Icon Sportswire
Who will be The King in the (NFC) North? The Vikings sail into the Windy City during this week's edition of Sunday Night Football with control of the NFC North on the line. With the Bears at 6-3 and the Vikes at 5-3-1, the winner of this game will take an important step towards securing control of the division.
The Bears have rebounded nicely from losses to the Dolphins and Patriots in Weeks 6 and 7 by feasting on the Jets, Bills, and Lions. The Vikings have similarly managed to compile a winning record by beating the bad teams on their schedule while losing by double digits to both the Rams and the Saints. 
Despite a slew of injuries, headaches, and bad luck, the Vikings have continued to row the boat. Oh wait, wrong Minnesota football team. Even so, the Vikings have refused to surrender, and kept right on keepin' on despite a series of setbacks that might have cratered a lesser team.
Vegas likes the Bears by a mere two-and-a-half points, and you get three points just for playing at home, so this game is about as much of a coin toss as you can get. Give us the Vikings in a narrow one, as we take in the warming narration of Al Michaels, our television grandfather. Minnesota 24, Chicago 21 is my prediction, but how do a hive-mind of NFL experts see this one turning out?
To predict the result of this Week 11 match-up, Unanimous A.I. used what's known as swarm intelligence. Twenty-eight NFL enthusiasts worked together as a hive mind to make their prediction. As you can see in the animation below, each participant controlled a golden magnet and used it to drag the puck toward the result they thought was the most likely outcome. This is where it gets interesting: As a user sees the puck move toward a particular decision, it triggers a psychological response. They might readjust their thinking as the group builds toward a consensus. It's an artificial intelligence, produced by human brains, working together as a swarm.
A swarm of 28 NFL experts has chosen Chicago to beat the visiting Vikings during Week 11, but it has low confidence that the Bears will win.
The Vikings play at the Bears at 8:20 p.m. Eastern Sunday on NBC.
Here's how Unanimous A.I. has predicted previous NFL games this season.
Unanimous A.I. has made some scarily accurate predictions in the past using swarm intelligence, as our this article explains. For instance, the swarm picked this year's Oscar winners with 94 percent accuracy. Here's Unanimous A.I. founder Louis Rosenberg explaining swarm intelligence at a recent TEDx Talk: