Chiefs vs. Rams: Preview and Winner for Mahomes vs. Goff Battle
It's a potential Super Bowl preview.
by T.E. Andrews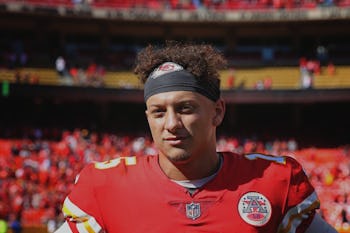 Scott Winters/Icon Sportswire
Yessssss. Kansas City goes west on Monday Night Football to take on the Los Angeles Rams in this week's Main Event and a potential Super Bowl preview between the best team in the AFC and the second-best team in the NFC. In case you've been living under a rock, both of these teams are amazing at offense and bad to mediocre at defense, thus leading to the highest over/under in a lifetime for this game. If this game was a movie, Michael Bay would direct it. 'Splosions!!
We expect pyrotechnics on the field when the high-octane Rams suit up, but we did not expect quarterback Jared Goff to try and use his on-field prowess to spark romance off the field via Twitter intrigue with Halle Berry. As the inspirational poster hanging on my wall says, "You Miss 100% of the Shots You Don't Take." Slide in those DMs, young man – just don't bring up Catwoman.
Meanwhile, precocious wunderkind Patrick Mahomes (who normally can do no wrong, and is a curly-headed beacon of football joy in these dark times) finally slipped up. Ketchup on steak, or – gasp – mac 'n cheese?! It's just not worth it, son – not even for free ketchup for life. And we say this even though ketchup is our favorite condiment as well.
With both quarterback chefs cooking with a bevy of high-caliber ingredients, the outcome may come down to which team's defense can do even a little bit more to slow down the other team's offense. The Rams at least have an intimidating defensive line, while the Chiefs have given up the second-most yards in the entire NFL to date. Rams 34, Chiefs 31 is my prediction, but how do a hive-mind of NFL experts see this one turning out?    
To predict the result of this Week 11 match-up, Unanimous A.I. used what's known as swarm intelligence. Some 28 NFL enthusiasts worked together as a hive mind to make their prediction. As you can see in the animation below, each participant controlled a golden magnet and used it to drag the puck toward the result they thought was the most likely outcome. This is where it gets interesting: As a user sees the puck move toward a particular decision, it triggers a psychological response. They might readjust their thinking as the group builds toward a consensus. It's an artificial intelligence, produced by human brains, working together as a swarm.
A swarm of 28 NFL fans has chosen Kansas City to win this potential Super Bowl match-up while on the road against the LA Rams.
The Chiefs play at the Rams at 8:15 p.m. Eastern Monday on ESPN.
Here's how Unanimous A.I. has predicted previous NFL games this season.
Unanimous A.I. has made some scarily accurate predictions in the past using swarm intelligence, as our this article explains. For instance, the swarm picked this year's Oscar winners with 94 percent accuracy. Here's Unanimous A.I. founder Louis Rosenberg explaining swarm intelligence at a recent TEDx Talk: