NFL Week 10 Predictions: Preview and Prediction for Seahawks vs. Rams
A "swarm" of 30 NFL experts worked together to predict the outcome of this match-up.
by T.E. Andrews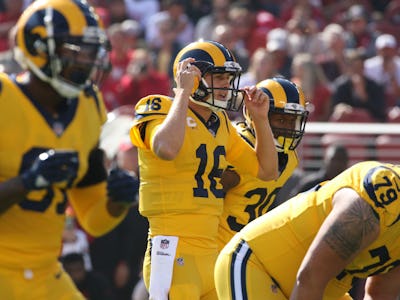 Ric Tapia/Icon Sportswire
The Rams' white-hot, undefeated start to the season finally came to a halt last week, as Los Angeles fell to the A.I. (and in the process, may have lost pole position as the NFC frontrunner). Even so, the Rams remain Super Bowl contenders. The Seahawks? TBD.
While the Rams' undefeated streak finally came to an end, dropping them to 8-1, their offense continues to terrorize, even as its defense looked hapless during last week's loss to the A.I. (aside from Aaron Donald and the defensive line, of course). Hoo boy, that d-line. If you're reading this, Mr. Donald, we meant no offense, and please do not take umbrage (or our lunch money).
On the other sideline, the Seahawks are 4-4, but most recently allowed a potential win against the Chargers to slip through their talons. Before dropping the ball against the Bolts, the Hawks had won four of their previous five, after an uninspired 0-2 start to the season. For Seattle, the NFC West division title is out of reach, but perhaps a wild card berth remains within reach.
If the Rams had lost last week, we might – might – have had the gumption to pick the Seahawks and call this upset (the Rams were due for a loss; no one goes undefeated in the modern NFL except for the 2007 Patriots, and we all know how that turned out). But they didn't. Rams 30, Seahawks 20 is my prediction, but how did a hive-mind of NFL experts predict the outcome of this Week 10 match-up?
To predict the result of this Week 10 match-up, Unanimous A.I. used what's known as swarm intelligence. Some 30 NFL enthusiasts worked together as a hive mind to make picks. As you can see in the animation below, each participant controlled a little golden magnet and used it to drag the puck toward the answer they thought was the most likely outcome. As the users saw the puck move toward a particular decision, it triggered a psychological response. They readjusted their decision-making, building toward the consensus you see below. It's an artificial intelligence produced by human brains working together as a swarm.
As the animation above shows, the 30 NFL experts collectively chose the option of Rams: High Confidence when asked who would win on Sunday. And as a group, they were nearly of one mind, with 84 percent brainpower being used to make that decision, showing very little dissent in the decision.
The Seahawks play at the Rams at 4:25 p.m. Eastern Sunday on CBS.
Here's how Unanimous A.I. has predicted previous NFL games this season.
Unanimous A.I. has made some scarily accurate predictions in the past using swarm intelligence, as our this article explains. For instance, the swarm picked this year's Oscar winners with 94 percent accuracy. Here's Unanimous A.I. founder Louis Rosenberg explaining swarm intelligence at a recent TEDx Talk: