Who Will Win Dolphins vs. Packers? A.I. Predicts 
A "swarm" of 30 NFL experts collectively has decided the outcome of this Week 10 game.
by T.E. Andrews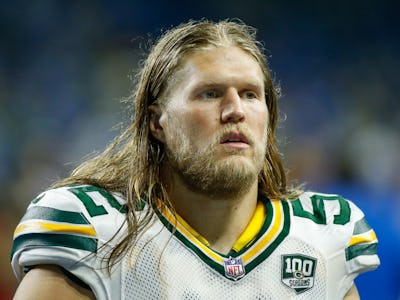 Scott W. Grau/Icon Sportswire
The Dolphins enter this game having dragged themselves back over .500 with a win over the sad-sack Jets last weekend. The Phins started 3-0, but then crashed back down to earth, losing four of their next five games before "winning" the Futility Bowl against Gang Green to bring their record to 5-4. The Dolphins have also entered into politics.
Meanwhile, the Pack continue to struggle through a difficult stretch in their schedule, having lost a pair of games to likely playoff contenders in the Rams and Patriots in the past two weeks to sit at 3-4-1. This may be a make-or-break game for Green Bay: if the Pack doesn't win against Miami, it will have to turn around and fly to the Pacific Northwest on a short week to face the Seahawks, then return to the Midwest for its second matchup against the Vikings, which Green Bay tied in Week 2. The good news for Pack fans is head coach Mike McCarthy may finally be on the outs for his many years of incompetence.
As dysfunctional and out-of-sorts as Green Bay looks right now, the Dolphins remain the Dolphins. Packers 30, Dolphins 17 is my prediction, but how did a hive-mind of NFL experts predict the outcome of this Week 10 match-up?
To predict the result of this Week 10 match-up, Unanimous A.I. used what's known as swarm intelligence. Thirty NFL enthusiasts worked together as a hive mind to make picks. As you can see in the animation below, each participant controlled a little golden magnet and used it to drag the puck toward the answer they thought was the most likely outcome. As the users saw the puck move toward a particular decision, it triggered a psychological response. They readjusted their decision-making, building toward the consensus you see below. It's an artificial intelligence produced by human brains working together as a swarm.
As the GIF above shows, the swarm of 30 NFL experts has high confidence that the Packers will win at home against the Dolphins.
The Dolphins play at the Packers at 4:25 p.m. Eastern Sunday on CBS.
Here's how Unanimous A.I. has predicted previous NFL games this season.
Unanimous A.I. has made some scarily accurate predictions in the past using swarm intelligence, as our this article explains. For instance, the swarm picked this year's Oscar winners with 94 percent accuracy. Here's Unanimous A.I. founder Louis Rosenberg explaining swarm intelligence at a recent TEDx Talk: