Who Wins Packers vs. Seahawks? A.I Predicts Rodgers vs. Wilson Winner
A swarm of NFL experts have predicted the winner of this Week 11 match-up.
by T.E. Andrews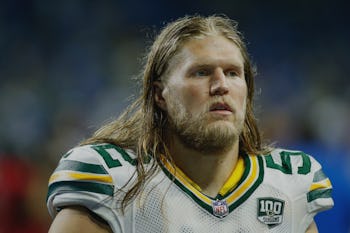 Scott W. Grau/Icon Sportswire
Aaron Rodgers returns to the raucous confines of CenturyLink Field for tonight's prime-time matchup against the Seattle Seahawks in what amounts to a de facto playoff elimination game.
These two teams have created some memorable match-ups over the years, most notably in the 2014 NFC championship game, when the Pack squandered a 16-0 nothing halftime lead before eventually losing in overtime.  The Seahawks went on to steal defeat from the jaws of victory against the Patriots in Super Bowl XLIX. We don't want to talk about it. The point is, neither of these teams has truly contended since that fateful and epic game four years ago.
And now, with Green Bay at 4-4-1 and Seattle at 4-5, the loser of this game will most likely miss the playoffs, and coaching heads could roll as a result. So the stakes for these two teams couldn't be much higher in tonight's game.
Another important consideration: which quarterback has more swag? Despite his penchant for dancing away from oncoming pass rushers, Russell Wilson revealed to the world his tragic lack of moves this past summer, when his wife Ciara thoroughly outclassed him while accepting the In My Feelings challenge. To be fair, not many can keep up with Ciara and her 1, 2 Step. Stay in your lane, Russ. No need to be a hero.
Meanwhile, Aaron Rodgers has so much swag, he's giving it away to the Dalai Lama. Advantage, Green Bay.
Despite these two talented quarterbacks, both teams may be better off Running The Damn Ball. Packers running back Aaron Jones leads the NFL in yards per carry, while dem Hawks average the most rushing yards per game. Seattle went to the wishing well and retrieved a lucky Penny in last week's game against the Rams, much to the chagrin of fantasy owners, who invested in the Seahawks' first-round pick, only to later drop him for lack of production during the first half of the season. Thanks for nothing, Rashaad. Still, better to arrive late to the party than not at all. 
Vegas likes Seattle in a squeaker, and we agree: night game at home, the 12s, and of course, CenturyLink Field – literally the loudest stadium in history. Seahawks 27, Packers 24 is my prediction but how did a hive-mind of NFL enthusiasts see this one turning out?
To predict the result of this Week 11 match-up, Unanimous A.I. used what's known as swarm intelligence. Some 29 NFL enthusiasts worked together as a hive mind to make their prediction. As you can see in the animation below, each participant controlled a little golden magnet and used it to drag the puck toward the result they thought was the most likely outcome. This is where it gets interesting: As a user sees the puck move toward a particular decision, it triggers a psychological response. They might readjust their decision-making and build toward the consensus you see below. It's an artificial intelligence, produced by human brains, working together as a swarm.
As you can see, the swarm chose Seattle: Low Confidence when asked to choose between four outcomes of the game. The swarm was fairly united in its decision, too, with 79 percent "brainpower" being used to make that prediction.
The Packers play at the Seahawks at 8:20 p.m. Eastern Thursday on Amazon Prime.
Here's how Unanimous A.I. has predicted previous NFL games this season.
Unanimous A.I. has made some scarily accurate predictions in the past using swarm intelligence, as our this article explains. For instance, the swarm picked this year's Oscar winners with 94 percent accuracy. Here's Unanimous A.I. founder Louis Rosenberg explaining swarm intelligence at a recent TEDx Talk: