7 Planned Cities Designed to Change Our Urban Future
Developing nations are using built-from-scratch urban zones to transform themselves as fast as possible.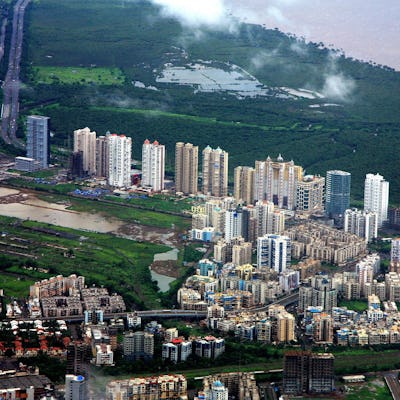 Planned cities can be immensely successful. Washington D.C., for instance, was built on a non-metaphorical swamp. But planned cities can also be total disasters. Ordos, China, for example, is an all but empty ghost town that may be the most trenchant critique of capitalism to come out of the East in ever.
If done right, planned cities are immensely successful. Probably the most recognizable planned city in the U.S. is Washington, D.C. Built on top of a swamp (but never fully shedding that swampy charm), the nation's capital was specifically designed for federal government's political and administrative needs. Over 200 years later, it's still standing. Navi Mumbai in India was meant to help decongest Mumbai itself. But with a population of nearly 1.2 million, the new city has become a thriving urban space in its own right — with plans for the Navi Mumbai International Airport already underway.
It is also far from alone in its scope or ambition.
With rising populations and huge booms in economic growth, many developing nations are beginning to ramp up their efforts to build planned cities and breed these areas as cutting-edge communities on the forefront of new technology. Here are seven planned cities being developed right now that the world ought to be keeping their eye on.
1. Konza Techno City
Being touted as the future Silicon Valley of Africa, Konza Techno City in Kenya is part of the country's ambitious plan to reinvent itself as a technology hub for the region. The city is being built 37 miles outside of Nairobi, which could be a concern to companies hoping to be closer to the Kenyan capital.
The government has already poured $14.5 billion in an effort to attract some of the world's top tech companies to the area. With a plan to finish major constructions projects by 2019, the Konza Technopolis Development Authority has announced that, by 2020, the city will create 100,000 jobs and bring in over $1 billion into the country every year.
2. Purbachal New Town
Purbachal New Town, a township sitting right outside of the Bangladesh capital of Dhaka, is meant to help solve the problem of limited housing in the area. But one of its more unique aspects is the government's plan to make this planned city a completely pollution-free community, while maintaining all the kinds of urban amenities you would find in Dhaka.
More importantly, though, Purbachal will eventually become the new capital of Bangladesh. As development progresses, government offices and embassies will make the move to the 6,000-acre city. At this point, making a new city will be easier than cleaning up Dhaka.
3. MSC Malaysia
Perhaps the most ambitious planned city likely to be constructed in the next few decades, MSC Malaysia is a "Special Economic Zone" meant to act as a new multimedia and technology utopia in Asia and transform Malaysia into a modern state. Different geographic sectors will play different industrial roles — for example, Cyberjaya will turn into an Asian Silicon Valley, while Putrajaya will be the new administrative center of Malaysia.
4. King Abdullah Economic City
Announced in 2005 under the reign of the late king Abdullah bin Abdulaziz Al Saud of Saudi Arabia, the $86 billion dollar planned city is meant to help revitalize the country as a place worthy of international investment (outside of the oil industry), as well as provide over a million jobs to the booming youth population
The city — set for completion in 2020, will feature six different components: an industrial zone, a sea port, residential neighborhoods, a sea resort, educational zone, and a central business district that will house the country's financial sector. Although the whole idea sounds kind of like a sprawling theme park, it's all part of Saudi Arabia's push to branch out into other kinds industries in a post-oil world and maintain a powerful influence in the region.
5. Songdo International Business District
South Korea wants to create a "smart city" unlike any other, and it's shaping up into something like a mashup of every other city in the world. The Songdo International Business District will be 40 miles southwest of Seoul and feature a replica of iconic attractions from around the world, including New York City's Central Park and Venice's beautiful waterways.
As the name suggests, South Korea is looking to make the $40 billion city into a new financial hub for the country, but already there has been a lot of investment from educational institutions around the world to make it a home for satellite campuses, including Stony Brook, George Mason University, and the University of Utah.
6. L Zone Smart City
"Smart cities" are a big part of Indian Prime Minister Narendra Modi's plans for his country, especially outside of Dehli. The L Zone Smart City aims to provide every resident with internet, water, and power without interruption. The city is intended for middle-class families trying to get away from the intense pollution and crowds that plague nearby New Dehli (once a planned city itself).
The L Zone Smart City is just one of three smart cities around Dehli still being worked out on paper. But the goal is to have these three communities work in concert to help foster in an outer-city community that boasts state-of-the-art technology and ushers India's capital into the new century.
7. Poundbury
This last city is actually the pet project of the UK's Prince Charles. Built over the last 25 years as an urban extension outside Dorcester, Poundbury is an experimental city meant to demonstrate the core principles of New Urbanism, a post-WWII movement that emphasizes walkability, green space, wide streets, and ecologically-sound design elements.
Though it's easy to dismiss as a strange indulgence of the future King of England, Poundbury is notable for being a small town that still retains the kind of public transportation efficiencies and dense-neighborhood characteristics found in bigger cities. Cars are uncommon, and most people choose to walk or bike to get from place to place. While sprawling metropolises are garnering most attention from developers, the quaint English city is an example of how developed countries can successfully bring urban elements to the suburbs.