This Beautiful Watch Is the the Best Price for the Holidays
You get all the features of a luxury watch without breaking the bank.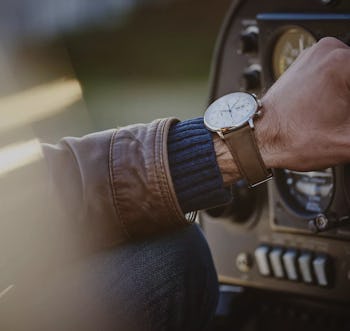 Huckberry
Whether you like it or not, it's time to start planning your gifting strategy for the upcoming holiday season. And lucky for you, we're here to make shopping for your significant other, best friend, uncle, whoever a whole lot easier. It's time to skip the lines, crowded parking lots and endless catalogs and opt for something classic, useful and completely affordable. Armogan's Spirit of St Louis Chronograph is just that and more.
This timepiece mixes vintage and modern feels into one chic package. Inspired by the monoplane flown by Charles Lindbergh in 1927, it is crafted with domed mineral crystal, a stainless steel case, leather strap and Miyota OS00 Chronograph movement.
The accessory looks good on just about anyone's wrist, but that's not even the best part. While everyday or dress watches from brands like Omega, TAG Heuer and Breitling will set you back a couple of thousands of dollars, this one retails for just $225. (No, your eyes are not deceiving you.)
A quality (and, of course, beautiful) watch that could be worn from work to dinner or anywhere in between for this price isn't easy to come by. The bottom line is, regardless of who you're shopping for, you can't go wrong with Armogan's Spirit of St Louis Chronograph. It might actually convince whomever you purchase it for to swap out their go-to Apple Watch.