Upgrade Your Underwear Drawer With 20 Percent Off at MeUndies
The discount also includes socks, bralettes and lounge pants.
by Shane Roberts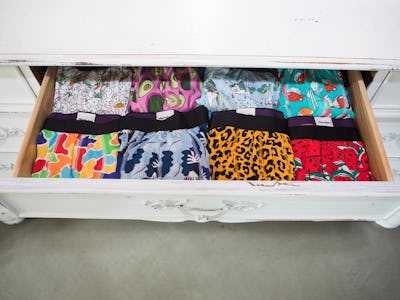 MeUndies
If you somehow still haven't upgraded from cotton underwear, today is the day. New and returning customers can take 20% off at MeUndies, including packs, when you spend $100 or more and use promo code SKIMUNDIES.
MeUndies was among the first brands to use MicroModal, a natural sustainably sourced fabric, in their products. Their underwear are comfortable, fit well under your skinny jeans, have unbranded waistbands, and are available in more colors and patterns than pretty much anything in the competitive set. They've since expanded their lineup to include everything from socks and bralettes to lounge pants and even onesies.
Founded in 2011, MeUndies wasn't just the early disrupter of the stagnant and uncomfortable underwear space, they were at the forefront of the direct to consumer revolution. MeUndies discounts are typically only available for new customers and exclude packs, so this is an excellent opportunity to replace everything in your basics drawers for as low as ~$9/pair using promo code SKIMUNDIES.
Spend $50, get 10% off. Spend $75, get 15% off. Spend $100, get 20% off at MeUndies with promo code SKIMUNDIES. Excludes Memberships.