Week 9 NFL Predictions: Preview and Winner for Steelers vs. Ravens
Will things be different this year for the Ravens?
by T.E. Andrews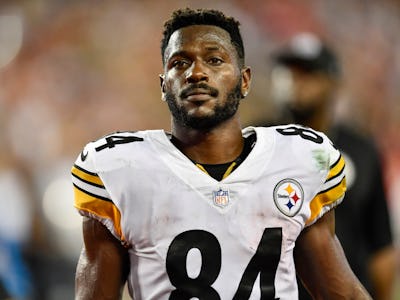 Roy K. Miller/Icon Sportswire
As the rematch in this annual rivalry looms, the Steelers and Ravens may be headed in different directions.
The Ravens soared to a 3-1 start during the first quarter of the season, leading to an outbreak of hot takes proclaiming that this year, Things Would Be Different. These weren't The Same Old Ravens. Then Baltimore lost three of its next four games, and a counter-wave of hot takes broke out to correct the record and remind us all that like a toxic relationship, nothing has changed and yes, these are The Same Old Ravens. The Ravens defeated the Steelers back in Week 4, but Week 4 seems like a long time ago now. The newly acquired Ty Montgomery may be able to reverse Baltimore's fortunes, but somehow, we doubt it.
Meanwhile, the Steelers started slow, with an ignominious tie against the lowly Browns, before dropping games to the Chiefs and the Ravens en route to a 1-2-1 start. Drama abounded. Since then, however, the Steel Crew has put together a three-game winning streak. And Le'Veon Bell still hasn't returned to the team yet, leaving open the possibility that the Steelers offense still has another gear.
And throughout it all, Steelers wide receiver JuJu Smith-Schuster (aka "The Publisher" – you heard it here first) continues to be the best, even if he makes the occasional sartorial faux pas. What are thooose? Even so, dude remains Bad and Boujee, indeed. We may not always pick the Steelers, but consider us firmly on Team JuJu. Steelers 27, Ravens 24 is our prediction, but how did a hive-mind of NFL experts predict this one turning out?
To predict the result of this Week 9 match-up, Unanimous A.I. used what's known as swarm intelligence to forecast the week's slate. Some 31 NFL enthusiasts worked together as a hive mind to make picks. As you can see in the animation below, each participant controlled a little golden magnet and used it to drag the puck toward the answer they thought was the most likely outcome. As the users saw the puck move toward a particular decision, it triggered a psychological response. They readjusted their decision-making, building toward the consensus you see below. It's an artificial intelligence produced by human brains working together as a swarm.
As you can see, the swarm is 78 percent confident that it has "low confidence" the Baltimore Ravens will defeat the Pittsburgh Steelers on Sunday in the Week 9 match-up.
The Steelers play at the Ravens at 1 p.m. Eastern Sunday on CBS.
Here's how Unanimous A.I. has predicted previous NFL games this season.
Unanimous A.I. has made some scarily accurate predictions in the past using swarm intelligence, as our this article explains. For instance, the swarm picked this year's Oscar winners with 94 percent accuracy. Here's Unanimous A.I. founder Louis Rosenberg explaining swarm intelligence at a recent TEDx Talk: