Who Will Win Chiefs vs. Browns? AI Predicts
Will the Browns beat the Chiefs in this Week 9 match-up?
by T.E. Andrews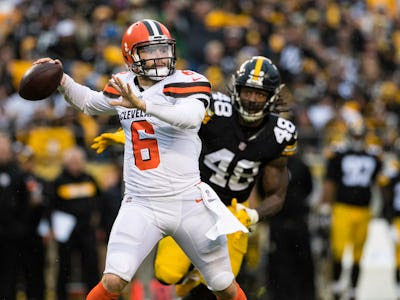 Mark Alberti/Icon Sportswire
After the Browns finally won a game in Week 3, the rivers throughout the Land flowed with milk and honey Bud Light. Fans of the Brownies hailed rookie quarterback Baker Mayfield as a savior – The Prince Who Was Promised, the Breaker of Chains. Mixed Game of Thrones metaphors!
And yet, as the season crossed the midway point, the sad-sack Browns have regressed to the mean, falling back down to a more familiar 2-5-1 record. The losses caused heads to roll throughout the organization as though Cleveland were France during the Reign of Terror.
Which brings us to this week's game. Sometimes you're the windshield, sometimes you're the bug. Just kidding—if you're the Browns, you're always the bug. Chiefs 33, Browns 21 is our prediction, but how did a hive-mind of NFL experts predict this one turning out?
To predict the result of this Week 9 match-up, Unanimous A.I. used what's known as swarm intelligence to forecast the week's slate. Some 31 NFL enthusiasts worked together as a hive mind to make picks. As you can see in the animation below, each participant controlled a little golden magnet and used it to drag the puck toward the answer they thought was the most likely outcome. As the users saw the puck move toward a particular decision, it triggered a psychological response. They readjusted their decision-making, building toward the consensus you see below. It's an artificial intelligence produced by human brains working together as a swarm.
As you can see, the swarm of NFL experts high confidence the Chiefs will win on Sunday.
The Chiefs play at the Browns at 1 p.m. Eastern Sunday on CBS.
Here's how Unanimous A.I. has predicted previous NFL games this season.
Unanimous A.I. has made some scarily accurate predictions in the past using swarm intelligence, as our this article explains. For instance, the swarm picked this year's Oscar winners with 94 percent accuracy. Here's Unanimous A.I. founder Louis Rosenberg explaining swarm intelligence at a recent TEDx Talk: