Who Will Win Cardinals vs. Chiefs? A.I. Predicts Rosen vs. Mahomes Matchup
"Chosen" Josh Rosen used to keep a hot tub in his dorm room, but he may wish to invest in an ice bath after this one.
by T.E. Andrews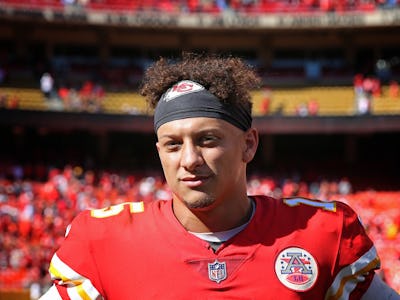 Scott Winters/Icon Sportswire
This is just unfair. The lowly 2-6 Cardinals head to Arrowhead Stadium Sunday to face the 8-1 Chiefs, proud owners of the League's best offense. The Cards managed to pick up just their second win of the season against the similarly harmless 49ers last week, bringing Arizona "up" to 2-2 for October. Progress!
Arizona's rookie quarterback "Chosen" Josh Rosen used to keep a hot tub in his dorm room, but he may wish to invest in an ice bath in his new digs in the desert, as he is all but guaranteed to take a beating behind the Cardinals' porous offensive line.
Meanwhile, the Chiefs continue their scorching-hot start to the season, with the lone blemish on their resume coming in Week 6, on the road in New England, where the Patriots squeaked by them on a last-second field goal.
The AI likes the Chiefs over the Cards. Vegas favors Kansas City by 16.5 points, most likely after getting burned last week by overestimating the Browns underestimating the Chiefs. That's a college football line, folks. That's right—the Chiefs' offense is roasting everybody, including Vegas (and that's before the Raiders move to Sin City). Zing! Savage burn. Let's not overthink this. Chiefs 34, Cards 16 is my prediction — but how did a hive-mind of NFL experts come to their prediction for the outcome of this Week 10 match-up?
To predict the result of this Week 10 match-up, Unanimous A.I. used what's known as swarm intelligence to forecast the week's slate. Some 33 NFL enthusiasts worked together as a hive mind to make picks. As you can see in the animation below, each participant controlled a little golden magnet and used it to drag the puck toward the answer they thought was the most likely outcome. As the users saw the puck move toward a particular decision, it triggered a psychological response. They readjusted their decision-making, building toward the consensus you see below. It's an artificial intelligence produced by human brains working together as a swarm.
As you can see the swarm is very confident that the Chiefs will defeat the Cardinals on Sunday, moving with a quickness to the Chiefs-high-confidence option when asked to predict the outcome.
The Cardinals play at the Chiefs at 1 p.m. EasternSunday. The game is on CBS.
Here's how Unanimous A.I. has predicted previous NFL games this season.
Unanimous A.I. has made some scarily accurate predictions in the past using swarm intelligence, as our this article explains. For instance, the swarm picked this year's Oscar winners with 94 percent accuracy. Here's Unanimous A.I. founder Louis Rosenberg explaining swarm intelligence at a recent TEDx Talk: