Week 9 NFL Predictions: Preview and Winner for Saints vs. Rams
The Saints come into this game riding high, but who does a hive-mind see winning it?
by T.E. Andrews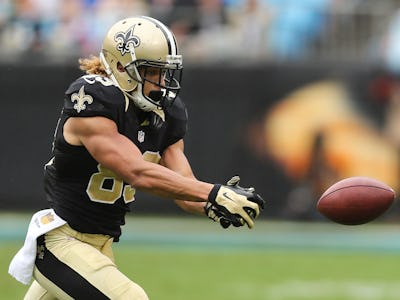 Jim Dedmon/Icon Sportswire
Sometimes, the football gods are stingy, such as this past Thursday night's pillow fight game between the woeful Raiders and the hapless 49ers. And then sometimes the pigskin deities are benevolent, loving gods who give us games like this one. We got us a slobber-knocker, folks.
Last week, the football gods gave us Packers vs. Rams, which mostly lived up to the hype, except when Ty Montgomery's selfishness robbed us of the chance to watch Aaron Rodgers try and put on his cape to deliver yet another miraculous comeback at the end of the game.
The good news? The Rams emerged with their perfect 8-0 record intact. They now head cross-country to the Big Easy for a game that will likely prove anything but. This game will almost certainly have playoff implications, as these are the two best teams in the NFC and the winner could very well secure home-field advantage in a potential rematch in the conference championship game.
The Rams defensive line already boasted Aaron Donald, who treats opposing quarterbacks the way the Cookie Monster treats snickerdoodles, as well as Ndamukong Suh. Then the Rams went out and added Dante Fowler at the trade deadline. With this "more is more" approach to the staffing on the defensive line, the Rams' pass rush is just unfair.
And yet… the Saints come into this game riding high, possessors of their own six-game winning streak after the lone blemish on their record when they fell to Ryan Fitzmagic and the Bucs in Week 1. Plus, they're at home. The streak has to end sometime, right? Saints 31, Rams 28 is our prediction, but how did a hive-mind of NFL experts predict this one turning out?
To predict the result of this Week 9 match-up, Unanimous A.I. used what's known as swarm intelligence to forecast the week's slate. Some 36 NFL enthusiasts worked together as a hive mind to make picks. As you can see in the animation below, each participant controlled a little golden magnet and used it to drag the puck toward the answer they thought was the most likely outcome. As the users saw the puck move toward a particular decision, it triggered a psychological response. They readjusted their decision-making, building toward the consensus you see below. It's an artificial intelligence produced by human brains working together as a swarm.
A swarm of NFL experts has low confidence that the Saints will beat the Rams on Sunday.
The Rams play at the Saints at 4:25 p.m. Eastern Sunday on Fox.
Here's how Unanimous A.I. has predicted previous NFL games this season.
Unanimous A.I. has made some scarily accurate predictions in the past using swarm intelligence, as our this article explains. For instance, the swarm picked this year's Oscar winners with 94 percent accuracy. Here's Unanimous A.I. founder Louis Rosenberg explaining swarm intelligence at a recent TEDx Talk: