Week 8 NFL Predictions: Preview and A.I. Projected Winner for Broncos vs. Chiefs
by T.E. Andrews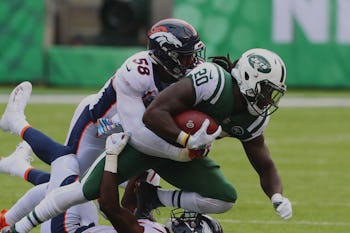 Rich Graessle/Icon Sportswire
This one pits the highest-octane offense in the league against Von Miller. On the one hand, we have the Chiefs, a star-studded collection of electric playmakers headlined by such luminaries as Patrick Mahomes, Tyreek Hill, Travis Kelce, and Kareem Hunt. And on the other hand, we have… Von Miller. Yep, that's pretty much it — just Von Miller.
The Broncos don't stand a popsicle's chance in hell against the offensive firepower arrayed against them in this one, and yet we must salute Mr. Miller, who continues to wreck shop against opposing offensive lines like a bull in a tea parlor. Seriously though — dude shoves three-hundred-pound lineman around like they're [bean bag chairs]. (https://twitter.com/sportsthread/status/1055262671698825217). In an era where every single rule change is geared toward helping offenses put up greater scoring numbers than ever, we salute the talented Mr. Miller and his unrivaled athleticism, creativity, and sheer determination to terrorize opposing quarterbacks. Keep snappin' necks and cashin' checks. Pow!
To predict the result of this Week 8 match-up, Unanimous A.I. used what's known as swarm intelligence to forecast the week's slate. Some 32 NFL enthusiasts worked together as a hive mind to make picks. As you can see in the animation below, each participant controlled a little golden magnet and used it to drag the puck toward the answer they thought was the most likely outcome. As the users saw the puck move toward a particular decision, it triggered a psychological response. They readjusted their decision-making, building toward the consensus you see below. It's an artificial intelligence produced by human brains working together as a swarm.
The Swarm likes the Chiefs to not only win but to beat the spread in this one. We agree — this one's a no-brainer. Chiefs 35, Broncos 17.
The Broncos play at the Chiefs at 1 p.m. Eastern Sunday on CBS.
Unanimous A.I. has made some scarily accurate predictions in the past using swarm intelligence, as our this article explains. For instance, the swarm picked this year's Oscar winners with 94 percent accuracy. Here's Unanimous A.I. founder Louis Rosenberg explaining swarm intelligence at a recent TEDx Talk: