Week 8 NFL Predictions: Preview and A.I. Projected Winner for Jets vs. Bears
Can the Jets keep their streak going?
by T.E. Andrews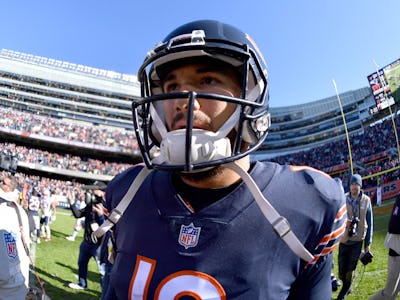 Robin Alam/Icon Sportswire
Can "Sunshine" Sam Darnold handle the cold? The rookie Jets signal caller will get another chance to prove his mettle as the temperature drops when Gang Green flies west for a game against Da Bears this weekend.
Heading into last week's demoralizing 37-17 loss to the Vikings, things looked like they were on the upswing for my beloved Jets. They had just climbed back up to .500, offering their fans a glimmer of hope, a brief respite from the never-ending morass of being, well, Jets fans. The lesson, as always: Lower your expectations, and you'll never be disappointed.
Sam Darnold, who spent his formative college years slinging pigskin while surrounded by beautiful coeds and comfortable warmth at the University of Spoiled Children Southern California, may not be cut out for life in the cold Northeast. Against the Vikings, Sunshine Sam Darnold looked, well, Darn Cold. Stop throwing things at me! Apparently, the Vikings noticed Darnold's discomfort in the chilly weather, earning him a frosty reception on the Jersey and Strong Island sports talk scene. Never let them see you shiver, Sam.
Meanwhile, the Bears dropped a brace of games after starting 3-1 to settle back into more comfortable, 3-3-type territory. Oddly enough, the AFC East is 2-0 against Chicago, with both the Patriots and Dolphins picking up wins against the Bears in the past two weeks. Can the Jets keep the streak going? We think not. Bears 27, Jets 20 is my prediction, but how did a swarm of NFL enthusiasts predict this one turning out?
To predict the result of this Week 8 match-up, Unanimous A.I. used what's known as swarm intelligence to forecast the week's slate. Some 26 NFL enthusiasts worked together as a hive mind to make picks. As you can see in the animation below, each participant controlled a little golden magnet and used it to drag the puck toward the answer they thought was the most likely outcome. As the users saw the puck move toward a particular decision, it triggered a psychological response. They readjusted their decision-making, building toward the consensus you see below. It's an artificial intelligence produced by human brains working together as a swarm.
The swarm has also predicted Chicago to not only win, but also to beat the spread, albeit with low confidence, as the animation above shows.
The Jets play at the Bears at 1 p.m. Eastern Sunday on CBS.
Unanimous A.I. has made some scarily accurate predictions in the past using swarm intelligence, as our this article explains. For instance, the swarm picked this year's Oscar winners with 94 percent accuracy. Here's Unanimous A.I. founder Louis Rosenberg explaining swarm intelligence at a recent TEDx Talk: