Experts Devise Cheat Codes to Solve for Killers in Agatha Christie Novels
Diving into the formula behind the murders she wrote.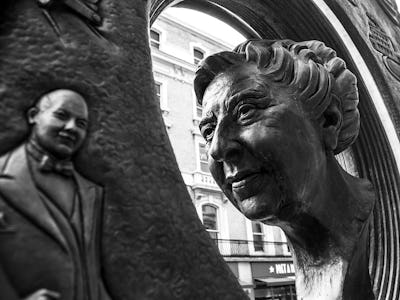 To honor the 125th birthday of Agatha Christie, British researchers and data analysts say they've cracked the mystery maven's murder code. Combing through the language in 27 of Christie's books, the panel of experts revealed how Christie made literary killings look easy — and the reader feel smart.
It's unclear if the conclusions are correlation, causation, or coincidence (it's a mystery!), but the main conventions of Christie's work, according to the British TV channel Drama-commissioned study and via the Press Association, were:
When OG true detective Hercule Poirot is on a stabbing case, look for a mention of the killer early on. But if it's up to Miss Marple to unspool a murderous yarn, killers motivated by sex or money won't be revealed till later acts.
If there are more land vehicles, there's a better chance of a female culprit; air and sea craft indicate male killers.
Stranglings are more likely to be perpetrated by men, countryside crimes by women.
There's a lot of chatter — the most used word is "said."
If these do indeed add up to an Agatha Christie whodunit formula, it yields an explosive reaction: The only works to outsell Christie, according to her website, are the Bible and Shakespeare.