Week 8 NFL Predictions: Preview and A.I. Projected Winner for Eagles vs. Jaguars
Both teams look to bounce back in Week 8.
by T.E. Andrews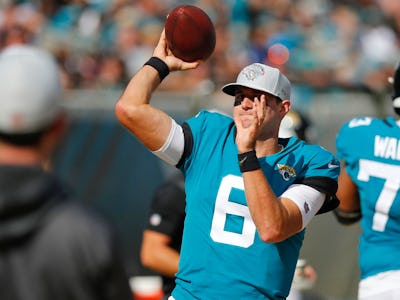 David Rosenblum/Icon Sportswire
The Eagles flock south for an appointment with the Jags in a game that looked like a matchup between two potential playoff contenders before the season began. That was the preseason, however, and now that the actual games have begun, both of these teams are desperately trying to right the ship before they sink out of playoff contention.
Entering last week's game against the Panthers, Philadelphia looked like it had turned things around. The Eagles had finally clawed their way back to .500, and held a 17-point lead entering the fourth quarter. Then they gagged away all 17 of those points, eventually falling to the Panthers by four and sliding back down below the break-even mark. For real though: the Eagles choked like Hillary in 2016.
Check out this Win Probability graph — the Panthers were literally dead, then the Eagles let the EMTs apply the defibrillators, and boom — the EKG (and the Panthers) roared back to life. NBD, only the biggest comeback in franchise history for Carolina. This guy felt some type of way about it. It gets better, Eagles fans. Or does it?
Meanwhile, in Sacksonville Jacksonville, the Jaguars gagged away a game of their own, falling to the Texans 20-7 to drop to 3-4 on the season. After quarterback Blake Bortles coughed up two fumbles, which Houston promptly turned into 10 points, the coaching staff did the unthinkable and put the BOAT (for those of you keeping score at home, that's "The Best Of All Time") in dry dock, benching him in lieu of Cody Kessler, who had previously spent the season gathering dust like a treadmill in the White House.
To predict the result of this Week 8 match-up, Unanimous A.I. used what's known as swarm intelligence to forecast the week's slate. Some 31 NFL enthusiasts worked together as a hive mind to make picks. As you can see in the animation below, each participant controlled a little golden magnet and used it to drag the puck toward the answer they thought was the most likely outcome. As the users saw the puck move toward a particular decision, it triggered a psychological response. They readjusted their decision-making, building toward the consensus you see below. It's an artificial intelligence produced by human brains working together as a swarm.
The Swarm likes the Eagles in this one. We… agree? We guess? Eagles 23, Jaguars 17.
The Eagles play the Jaguars at 9:30 a.m. Eastern Sunday in London on NFL Network.
Unanimous A.I. has made some scarily accurate predictions in the past using swarm intelligence, as our this article explains. For instance, the swarm picked this year's Oscar winners with 94 percent accuracy. Here's Unanimous A.I. founder Louis Rosenberg explaining swarm intelligence at a recent TEDx Talk: