'Halt and Catch Fire' Recap: 'Heaven Is A Place'
Pack up your bags, the 'Halt and Catch Fire' crew are going to California.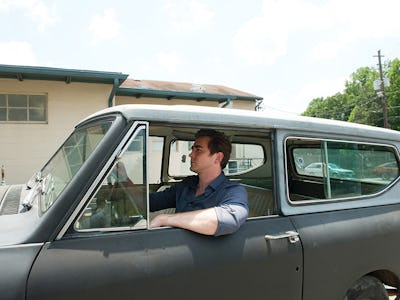 Richard DuCree / AMC 
Cameron isn't a good motivational speaker. When Donna is at the Mutiny office earlier than normal, Cameron understands that this isn't a good moment for co-worker. Donna lays out that her and Gordon's marriage is appearing to fall apart. Cameron, who's been scheming all season, gets an idea that could finally make Mutiny self-sufficient: California. She presents Donna with the idea of moving the entire company to California. The hope is to recenter the company on their own network, which would allow for some of the freedom Mutiny has not had in months.
"Heaven Is a Place," the season finale of Halt and Catch Fire, felt like a season finale. Where last season's ending felt like an epilogue of characters attempting to figure out what happened to them the previous 9 episodes. This was a hard chapter to close. Joe, who appeared to be at his lowest, didn't stay there for too long as the closing scenes were full of venture capital money ready to start a new business in San Francisco. Where other characters see specific ways that technology can help society (ex. Donna and Community), Joe swerves and moves between different forms. One day it was creating the personal computer. Now he's into cyber security. Maybe thinking two steps ahead is enough for him.
Those without that luxury right now are Donna and Gordon, who finally confronted the secrets they've been holding the entire season. After Donna learns about the fight between Gordon and Henry in California, Gordon comes clean to his affair and Donna tries to see what she wants out of this strained relationship. After hearing Cameron's idea of going to California, Donna explains to Gordon that they'll be moving to California and Gordon will buy and help set-up Mutiny's new network. Gordon doesn't like the terms, but when Joe calls asking if he'd like to join him on a new venture, Gordon declines, understanding that he needs to focus on his family.
California's been the destination all season. It's where Joe and Sarah were always planning on moving. It's the place for tech start-ups like Mutiny and where a tech veteran like Gordon should be cashing in on the venture capital being pumped into the sector. In the final plane scene, Cameron looked, hoping to see Tom at the last minute appear on the plane, which he didn't; Donna took a moment in the bathroom to breakdown as Gordon suggested the idea of them having another child. A move might be seen a solution, but that isn't going to be such an easy fix. Either way, they've made their choices and now it's onward to California.