An Auction Site Is Selling 'Mad Men' Ephemera, Including Don Draper's Books
You can also own other props from the series if you're the highest bidder.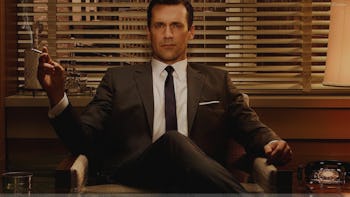 AMC
One of the most visually complex TV shows of all time was the recently-ended Mad Men, but it was never as detailed as when Don Draper busted out some books or magazines that just so happened to mirror his inner turmoil. If you're a Mad Men superfan and want a tangible piece of that post-war American ennui, you're in luck! Auction site ScreenBid is running a fire sale of a wide array of props from the AMC show through August 6th. Here are a few choice items from Don's library of existential dread.
Don's January 3, 1970 edition of The New Yorker, the June 1970 edition of Consumer Reports, the January 12, 1970 edition of Newsweek, the Jan. 13, 1970 edition of Look, and the June 19, 1970 edition of Life. Asking bid: $100
Don's February 1969 issue of Playboy from Season Seven. Asking bid: $75
Don's copy of Meditations in an Emergency by Frank O'Hara. Asking bid: $200
Don's "The Berlitz Self-Teacher: French" from when Megan's Francophone parents visited New York in Season Five. Asking bid: $100
Don's copy of The Chrysanthemum and the Sword from Season Four. Asking bid: $75
Don's replica copy of the Nov. 20, 1966 edition of The New York Times. Asking bid: $100
Don's August 30, 1965 edition of Newsweek from Season Four. Asking bid: $125
Don's collection of (replica) copies of the May 16, 1970 issue of TV Guide, the May 1970 issue of Esquire, the May 1, 1970 issue of Life and the May 19, 1970 issue of Look. Asking bid: $75
Don's July 1966 issue of Esquire from Season Five. Asking bid: $125