Dallas Cowboys vs. Washington Redskins: Preview of Matchup and Prediction
The NFC East is the division no one wants to win.
by T.E. Andrews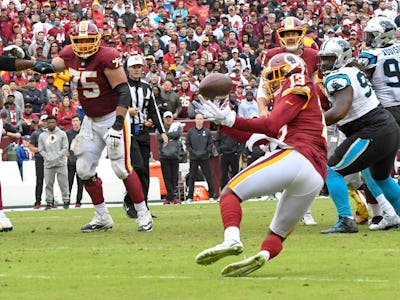 Mark Goldman/Icon Sportswire
The NFC East is the division no one wants to win. As we round toward the halfway point of the NFL season, the Washington Redskins Voldemorts (The Team-That-Shall-Not-Be Named) are in that position, going 3-2 into Week 7.
Meanwhile, dem 'Boys have continued their up-and-down season with a thorough drubbing of Blake Bortles and the Jaguars. The 2018 campaign has been a tale of one step forward, one step back for Dallas, as they have alternated losses and wins to date. A win last week does not bode well for a similar victory this week. UFC star Conor McGregor rubbed shoulders with the Cowboys before the game. Cowboys fans had better hope his penchant for taking Ls and horrible throwing motion don't rub off on America's team.
To predict the result of this Week 7 match-up, Unanimous A.I. used what's known as swarm intelligence to forecast the week's slate. Some 36 NFL enthusiasts worked together as a hive mind to make picks. As you can see in the animation below, each participant controlled a little golden magnet and used it to drag the puck toward the answer they thought was the most likely outcome. As the users saw the puck move toward a particular decision, it triggered a psychological response. They readjusted their decision-making, building toward the consensus you see below. It's an artificial intelligence produced by human brains working together as a swarm.
A swarm of 36 NFL experts has predicted that Washington will win at home when it hosts the Dallas Cowboys on Sunday. The Swarm AI likes the Voldemorts in this one. As fellow Slytherins, we tend to agree. Avada kedavra. Washington 23, Dallas 21.
The Cowboys play at the Washington at 4:25 p.m. Eastern Sunday on CBS.
Unanimous A.I. has made some scarily accurate predictions in the past using swarm intelligence, as our this article explains. For instance, the swarm picked this year's Oscar winners with 94 percent accuracy. Here's Unanimous A.I. founder Louis Rosenberg explaining swarm intelligence at a recent TEDx Talk: