NFL Predictions Week 7: Last-Minute Predictions for Giants vs. Falcons 
by T.E. Andrews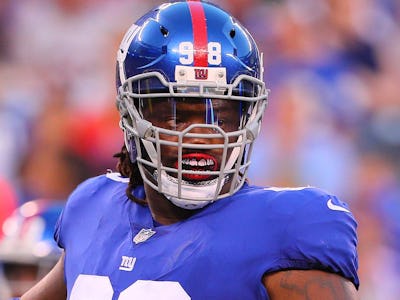 Ken Murray/Icon Sportswire
Call this one the Battle of the Snails, because it pits two bottom-feeders. The dregs of the NFC East square off against the dregs of the NFC South in a game few would watch if it didn't occupy a prime-time slot during Monday Night Football.
Seriously though, if the Falcons sat down and played the Giants in a game of Goldeneye on the Nintendo 64, the game would end in a tie, with both teams getting the superlative of Mostly Harmless. Slappers only!
The Giants' season is already a lost cause after the G-Men dropped their third consecutive game in a row and getting blown out, at home, by the Rival Eagles. The only Giant who showed any fight was mercurial star wideout Odell Beckham, Jr., who unleashed a head-butt and flurry of fists on a piece of sideline equipment. He's lucky it didn't hit back.
To predict the result of this Week 7 match-up, Unanimous A.I. used what's known as swarm intelligence to forecast the week's slate. Some 38 NFL enthusiasts worked together as a hive mind to make picks. As you can see in the animation below, each participant controlled a little golden magnet and used it to drag the puck toward the answer they thought was the most likely outcome. As the users saw the puck move toward a particular decision, it triggered a psychological response. They readjusted their decision-making, building toward the consensus you see below. It's an artificial intelligence produced by human brains working together as a swarm.
As you can see in the replay above, a swarm of 38 NFL experts have high confidence that the New York Giants will beat the Atlanta Falcons in this Week 7 match-up at Mercedes-Benz Stadium in ATL. The Swarm AI favors the Falcons in this one. Sure, why not. Falcons 30, Giants 27.
The Giants play at the Falcons at 8:15 p.m. Eastern Monday on ESPN.
Unanimous A.I. has made some scarily accurate predictions in the past using swarm intelligence, as our this article explains. For instance, the swarm picked this year's Oscar winners with 94 percent accuracy. Here's Unanimous A.I. founder Louis Rosenberg explaining swarm intelligence at a recent TEDx Talk: