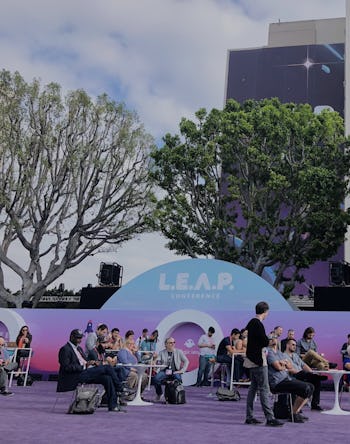 Innovation
I Tried the Magic Leap One and Spent a Day Traversing the 'Magicverse'
A day with the developers and artists making AR's promise a reality. 
Ariana Chomitz
There were too many dinosaurs, the overloaded processor warned; I plucked a black hole from my Magic Leap "Create" toolkit and vacuumed up the bobbing, knee-high t-rexes to free some space. I was safe, at least for now.
This was my introduction to the fabled Magic Leap One, the mixed reality headset from the secretive Florida company that's worked on its product for the better part of a decade before beginning to release it in waves over the summer. When you put on the headset, you're greeted with a native sandbox that you can fill with virtual characters. With the glasses on, the little characters, in my case t-rexes, appear to be in the room with you, perched on surfaces and popping around. After the short demo, I was hungry for more.
Such was the scene on keynote day for L.E.A.P Con, Magic Leap's first-ever developer conference held this week in Los Angeles, where lines of programmers and artists snaked around the lobby for Lucasfilm's porg demos and Andy Serkis supervised motion capture actors at the Imaginarium Lab's booth. There were steampunks helping visitors board an intergalactic art installation made by design house MeowWolf.
The long-awaited convention attracted developers from San Francisco to Montreal and beyond, in industries ranging from film and gaming to healthcare. All of them were emphatic believers in the technology on display, and convinced that Magic Leap's near decade in stealth mode has helped them build the definitive mixed reality platform of the future.
The Magic Leap One is an augmented reality headset that spent the better part of a decade under development.
What Brought People to L.E.A.P?
For devotees of a product with a $2,000+ price tag, the Magic Leap community is, philosophically, surprisingly egalitarian. The tech and design community in attendance all unanimously insist that this new world (the "Magicverse", as they say) is a flashpoint of inclusivity and democracy.
Marcy Boyle and Rachel Holzman are two such Magicverse devotees, and founders of a company that's trying to figure out how to apply augmented reality to e-commerce. We spoke while wolfing down a quick sandwich in the LEAP cantina, where I found the two strategizing about which creative and technical keynotes to fit in next.
"I came from film, which was so close-minded," Boyle tells me. "VR/AR is very, very open, and honest about admitting that they don't know anything yet. If you have an idea — they need you."
"We don't know how to take your money! — Rachel Holzman, co-founder of Hot Bit VR
As for ideas, Boyle and Holzman are chock full. They rattle off a number of monetization concepts that could be enriched in AR, such as gamified shopping for exclusive product releases or collaborations with stars like Rihanna — a celebrity who definitely knows the power of immersive experiences for branding. Also on the agenda is figuring out how to make money.
"We don't know how to take your money!" Holzman laughs. "There's literally no way to authorize a purchase within AR. You have to leave the experience to process a transaction."
With no real solution close to hand, Rachel and Marcy are currently working on a way to replicate within AR the intuitive, frictionless ease of thumbprinting a smartphone purchase. But of course, this is one of many, many logistical problems the bright, eager minds at L.E.A.P Con are here to try to tackle.
A Medium With No Established Rules
Practical problems like the issue of payments processing are popping up left and right (world-building, after all, is time-consuming). There are many, many discussions over what limitations to obey and which ones can be overcome. The "point and click" mouse of our two-dimensional screens is not going to apply in these theoretically limitless mixed-reality landscapes, explained Jonathan Brodsky, a Magic Leap creative engineer. Brodsky started my Leap One demo by teaching me to draw in floating 3D crayon around a cozily staged living room while walking me through the constraints.
"If you have your dashboard menu up and you walk through a door that is narrower than the menu — does it get stuck?" he asks. "If you slide your menu under the couch to be out of the way and then forget, does it get lost there?"
There's a lot to fine tune when you're transferring traditional or bounded experiences to something a user can interactively poke at from all sides, but that's what's exciting about AR at this particular moment. And despite what the flashy, hi fidelity demos look like, developers are already focused on a goal that's arguably much further down the line — making AR a medium of genuine emotional connection.
Building Games In Another World
Robin Hunicke is the CEO ("And Empath" per her business card) of Funomena, a company that builds quietly beautiful games that feature dynamic characters tackling hard questions and processing emotional recovery. The object of Luna: Moondust Garden, the game she debuted at the conference is to tend to seeds and help them grow.
"It's important to be thinking about how we can build this technology for good," she says. "You could build a much more compassionate experience."
By expanding and overlapping our increasingly individualized worlds, she explains, AR games can foster better communication and understanding between individuals, communities, cultures. Her goal is to keep AR gaming from becoming just like all the other platforms, which are dominated by egocentric, player-as-hero experiences.
"You can give people permission to be scared or like they're not doing well," she explains, adding, "and then coach them a lot better when you pay attention to what's actually going on with them, rather than relying on button-pressing."
AR gaming has the potential to make first person shooters and other gaming mainstays feel incredibly passé. With Magic Leap, characters can be designed to react to posture, facial expression, and other body cues. Imagine not just games like Pokemon Go that take place in the world around you; but games where characters remember you, where you can build rapports, and where you collaborate with a mix of real people and virtual ones.
""It's important to be thinking about how we can build this technology for good," — Robin Hunicke, CEO of Funomena, a gaming studio.
Entertainment Is Only the Beginning
But gaming and entertainment are hardly the only use-cases for combining spatial reasoning and creative work with this kind of emotional heft. Medical classrooms have already been using AR to simulate procedures like surgery and childbirth in a guided classroom setting, and researchers at Purdue recently demonstrated how AR could help experienced surgeons in one part of the world help less trained medics in refugee camps and war zones do more complicated procedures and save lives.
In that sense, augmented reality has already changed the way some doctors are educated. Eric Provencher, a mixed reality specialist from health tech company CAE, described to me how it adds a vital layer of urgency and human response to students' educations. A textbook can tell you about a birth complication, for instance, but a professor guiding you through a reactive, lifelike hologram can prepare medical students for the heightened stress of a tangled umbilical cord — within a coachable, risk-free environment.
Looking from the outside at Magic Leap, it's hard not to get distracted by the t-rexes, porgs, and steampunk goggles. It also seems like these expensive headsets are not ready, and not really meant, for mass consumption yet.
In short, it's a limited art form in its current state. But as Magic Leap founder Rony Abovitz pointed out in the opening keynote, Ansel Adams didn't wait for photography to be perfected before he started taking pictures. The work of an artist is to create within formal limitations; the work of an engineer is to remove those limitations, however long that takes.
But between the open source of Magic Leap's system and Abovitz's commitment to populating his team and the Magicverse with a diversity of thought and experience, the first L.E.A.P Con set an example that this newly emerging world will certainly follow in some way or another. Magic Leap isn't life-changing yet, but it's certainly trying.