Ranking The Versions Of Jidenna's "Classic Man"
It's time to find out which is most classic.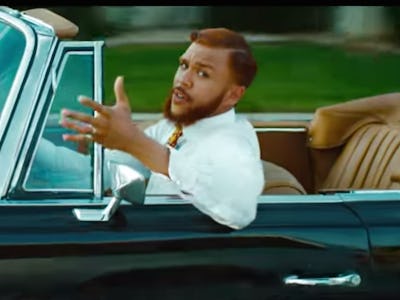 1 "Classic Man" (Ft. Roman GianArthur)
The original "Classic Man" is the best "Classic Man." It serves as an introduction to our worldly author — Jidenna — and represents the purest form of "Classic Man." It is untouchable, and anyone who says otherwise is certifiably unclassic. It's just science. Moving on.
2 "Classic Man" (ft. Roman GianArthur) (Vevo Live Edition)
While our hero shines in this live version — the charisma exists in person, and not just in its bottled-up and steampunked up form — I am compelled by the presence of Roman GianArthur. He's wearing something that looks like what a British field officer would wear in the Revolutionary War when he was out drinking after banging on a tom tom all day and wearing a flat brimmed hat that's twice as big as the one Raury wears. It's classic as shit. They curse a lot in this version, which makes it tough as hell too. Roman and Jidenna sync up to dance also — I'm not focusing on the visual element with this ranking, but it's hard not to be swayed by that hip swirl thing they're doing.
3 "Classic Man (Remix)" (Ft. Kendrick Lamar)
When Taylor Swift released her video for "Bad Blood," people knew Kendrick Lamar was going to be involved. But, they probably didn't think he'd have two verses on the remix, both of which are kind of goofy in the grand scheme of things but enjoyable. Similarly, I feel that here Jidenna hogs up too much of the attention, especially as we get some shots of him driving an old Benz around. It's classic shit, and we're distracted from it by Kendrick, who appears in the video wearing John Lennon glasses. It's classic alright — we are in rare air here, after all — but it's the least classic of the batch.