Anish Kapoor's ArcelorMittal Orbit Tower Becomes World's Largest Slide
Anish Kapoor's Olympic sculpture finds new life.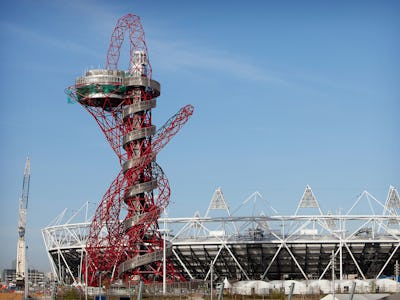 www.flickr.com/photos/eager
Britain's largest piece of public art is about to become Britain's largest playground.
Indian-born, UK-based artist Anish Kapoor's sculpture ArcelorMittal Orbit Tower, first built for the London Olympic games in 2012, is being retrofitted in the best way possible: with a massive semi-transparent tube slide that will weave in and out of the sculpture's latticework five times before ending with a hair raising 164-foot drop.
The fun will last only 40 seconds, but will fling riders towards the ground at an average speed of over 29 feet per second. And the experience, unlike everything else in London, will be affordable. Rides down the British art slide of doom will, in theory, cost £5 (a little over $7). Park officials hope the slide will be open for Spring of 2016.
The 376-foot tower is in keeping with the monumental work Turner-prize winning Kapoor, who defaults toward industrial materials like steel and mirrors and often dominates public spaces, produces.
Among his greatest hits: the Tate Modern installation Marsyas, a gigantic single-piece PVC membrane that was stretched to fill the museum's 3,400-square-foot main hall (curious Tate fans will recognize some similarities between his slide and Belgian artist Carsten Holler's slide installation called Test Site that filled the same space in 2006 to 2007), his series called Sky Mirror that consists of a 10 ton stainless steel reflective surface at an angle, and "The Bean."
Yeah, it's supposed be called "Cloud Gate," but it's always gonna be "The Bean." Now, England has "The Beanstalk."