Who Wins Saints at Giants? A.I. Predicts
The stars will be in the building for this Week 4 match-up.
by T.E. Andrews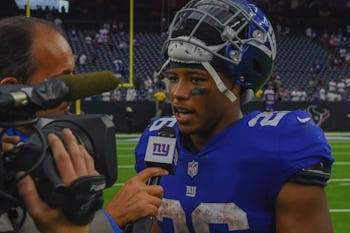 Ken Murray/Icon Sportswire
The stars will be in the building when New Orleans goes marching into the Meadowlands to face the New York Football Giants. Expect fireworks in this one, as New Orleans has surrounded quarterback Drew Brees with a bevy of offensive weapons around him and he has already thrown for more than a thousand yards on the season.
Meanwhile, the G-Men have managed to crawl their way back to respectability after a forgettable 2017 campaign. The reckless Odell Beckham Jr. has returned after breaking his ankle last season to become the highest-paid wide receiver in NFL history. The silver lining to the Giants' freefall to a 3-13 record last season arrived in the form of star running back Saquon Barkley, a veritable Swiss Army knife who can rush, line up in the slot, or split out wide – if Swiss Army knives could run a 4.40 40, had thighs as thick as your waist, and could bench your one-rep maximum like a foam roller. The offensive line remains a concern, struggling to keep statuesque Old Man Eli on his feet and off the turf.
Down in the Bayou, the Saints have rebounded nicely after getting bamboozled by the Bucs and their voodoo Fitzmagic in Week 1. The Saints lead the NFC in scoring through three weeks, with Brees at the helm and several offensive playmakers adding timely contributions. From a gambling perspective, this game has "stay away" written all over it. If you must partake, bet the over. Breesy peasy. Saints 35, Giants 30 is my prediction but how does a "swarm intelligence" think it will turn out?
To predict the result of this Week 4 match-up, Unanimous A.I. used what's known as swarm intelligence to forecast the week's slate. Some 33 NFL enthusiasts worked together as a hive mind to make picks. As you can see in the animation below, each participant controlled a little golden magnet and used it to drag the puck toward the answer they thought was the most likely outcome. As the users saw the puck move toward a particular decision, it triggered a psychological response. They readjusted their decision-making, building toward the consensus you see below. It's an artificial intelligence produced by human brains working together as a swarm.
Like me, the swarm is picking New Orleans for this game, and its 78 percent confident that the Saints will return home victories from New Jersey. However, it only has low confidence in a Saints victory.
The Saints play at the Giants at 4:25 p.m. Eastern Sunday on CBS.
Unanimous A.I. has made some scarily accurate predictions in the past using swarm intelligence, as our this article explains. For instance, the swarm picked this year's Oscar winners with 94 percent accuracy. Here's Unanimous A.I. founder Louis Rosenberg explaining swarm intelligence at a recent TEDx Talk:
In related news, Unanimous A.I. recently presented a scientific study of its ability to forecast games in the National Hockey League. In a 200-game, 20-week-long study of its Swarm AI in the NHL, it was able to easily outperform Las Vegas expectations, and its "Pick of the Week" was right 85 percent of the time, producing a 170 percent ROI. The paper, titled "Artificial Swarm Intelligence versus Vegas Betting Markets," was presented at the at the IEEE Developments in eSystems Engineering Conference (DeSE 2018) this month at Downing College in Cambridge, England. In a press release issued with the study, co-author Gregg Wilcox says the technology can be applied to matters outside sports, too. "While it's fun to predict sports, we are currently applying the same techniques to a wide variety of other domains, including financial forecasting, business forecasting, and medical diagnosis, all with positive results."