Who Wins Chiefs at Broncos? A.I. Predicts
Mr. Mahomes, meet Mr. Miller.
by T.E. Andrews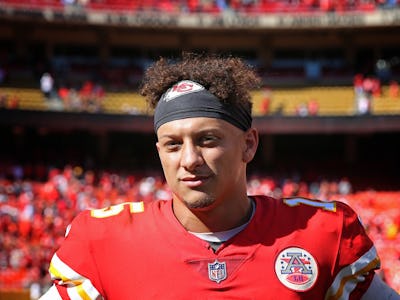 Scott Winters/Icon Sportswire
Mr. Mahomes, meet Mr. Miller. First-year starter Patrick Mahomes has set the NFL on fire and led the Chiefs to an unbeaten record as they venture Mile High to take on the Broncos on Monday Night Football. The Chiefs currently lead the NFL in scoring and Mahomes (insert "Patrick, ma-homey" joke here) has slung 13 (‼) touchdowns in three games. He has yet to throw an interception on the season. Both of these trends are sustainable and will no doubt continue in perpetuity.
Human wrecking ball Von Miller currently has four sacks (tied for the NFL lead) and is no-doubt licking his chops at the prospect of adding to his tally on Monday night. The Broncos have surprised thus far, compiling a 2-1 record despite being outscored by their opponents by a combined nine points to date. The Broncos' two wins have come by a grand total of four points. This trend is sustainable and will no doubt continue in perpetuity.
With the Broncos at 2-1 and the Chiefs at 3-0, the winner will wake up on Tuesday morning atop the AFC West, having wrested control of the division in this early-season showdown.
Take the Chiefs. The fairytale season continues for another week, as Mahomes' archery and Tyreek Hill's fleet feet prove too much for the Broncos to overcome, despite the altitude and Miller's individual brilliance. Chiefs 30, Broncos 21 is my prediction but how did a swarm of NFL experts see this one ending up?
To predict the result of this Week 4 match-up, Unanimous A.I. used what's known as swarm intelligence to forecast the week's slate. Some 33 NFL enthusiasts worked together as a hive mind to make picks. As you can see in the animation below, each participant controlled a little golden magnet and used it to drag the puck toward the answer they thought was the most likely outcome. As the users saw the puck move toward a particular decision, it triggered a psychological response. They readjusted their decision-making, building toward the consensus you see below. It's an artificial intelligence produced by human brains working together as a swarm.
A hive-mind of 33 NFL experts collectively has predicted the Chiefs will leave Denver on Monday victorious over their rivals.
The Chiefs play at the Broncos at 8:15 p.m. Eastern on Monday on ESPN.
Unanimous A.I. has made some scarily accurate predictions in the past using swarm intelligence, as our this article explains. For instance, the swarm picked this year's Oscar winners with 94 percent accuracy. Here's Unanimous A.I. founder Louis Rosenberg explaining swarm intelligence at a recent TEDx Talk:
In related news, Unanimous A.I. recently presented a scientific study of its ability to forecast games in the National Hockey League. In a 200-game, 20-week-long study of its Swarm AI in the NHL, it was able to easily outperform Las Vegas expectations, and its "Pick of the Week" was right 85 percent of the time, producing a 170 percent ROI. The paper, titled "Artificial Swarm Intelligence versus Vegas Betting Markets," was presented at the at the IEEE Developments in eSystems Engineering Conference (DeSE 2018) this month at Downing College in Cambridge, England. In a press release issued with the study, co-author Gregg Wilcox says the technology can be applied to matters outside sports, too. "While it's fun to predict sports, we are currently applying the same techniques to a wide variety of other domains, including financial forecasting, business forecasting, and medical diagnosis, all with positive results."