The Lion Stalks Milwaukee. And Your Twitter Feed
Breaking news: It might just be a pet.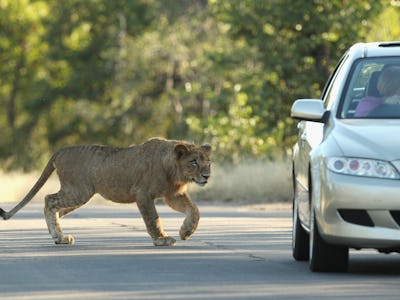 Getty Images
For the past week, Milwaukeeans have been on high alert. They're keeping grandchildren indoors. Cops are canvassing neighborhoods. And folks are shutting down their computers. Why? There might be a lion on the loose, but the wall-to-wall coverage could be even scarier.
As the video above shows, it sure looks like there's a giant feline casually cruising around town. So, what to do? Panic, and then make fun of the panic. Clearly. Since word of the lion-thing got out, the floodgates have been opened. What could it be? Where is it? And how do I make awesome jokes about it on Twitter?
One enterprising individual with a quick draw registered @milwaukee_lion and has been busy writing one-liners like this since:
Even the Milwaukee Bucks and the Milwaukee County Transit System (among many, many others) have gotten in on the game.
Today marks the most exasperating, overflowing news cycle of them all. The beast not only made the front page of The Chicago Tribune, but was the subject of a New York Times profile. The lion has gone national.
And while many residents are understandably concerned for their safety—and probably imagining that it's the creature that jumped out of Louis Tully's closet—others point to the fact that no one has reported fed-upon animal carcasses or even a missing pet. The Milwaukee Journal-Sentinel's recent piece on the subject takes on a more relaxed tone: Wisconsin has extremely lax exotic pet laws, so chances are this is just a lost big cat.
When reached for comment, Milwaukee resident Emilia Layden says, "The Times mentions Milwaukee twice recently: once related to a Pope Benedict condom portrait, once related to a lion-like creature on the loose." She and her husband, Chris, told their almost-2-year-old, William, a bedtime story last night. It being this week, the lion made his way into the tale. In the end, the hero William tranquilized the beast with a bow and arrow. "I informed Chris," Layden relays, "that it was not appropriate to kill animals in bedtime stories." Now, everyone can sleep easy.