Who Will Win Panthers vs. Falcons? A.I. Predicts
The game should be close.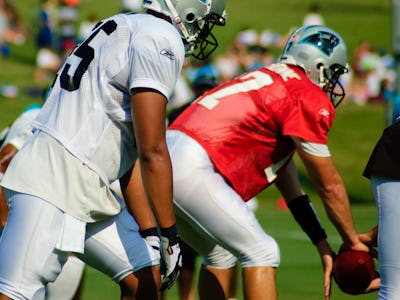 Flickr / kyle tsui
The Carolina Panthers go into their Week 2 game vs the Atlanta Falcons as slight underdogs, and Devonta Freeman may have something to do with it. The Falcons running back will be sidelined (along with Keanu Neal and Deion Jones) for this game and may miss two to three weeks altogether, reports ESPN, over a right knee contusion. Had Freeman been in the game, the Panthers might be in greater trouble.
To predict the result of this Week 2 match-up, Unanimous A.I. used what's known as swarm intelligence to forecast the week's slate. A group of NFL fans worked together as a hive mind to make picks. As you can see in the animation below, each participant controlled a little golden magnet and used it to drag the puck toward the answer they thought was the most likely outcome. As the users saw the puck move toward a particular outcome, it triggers a psychological response. They readjust their decision-making, building toward a consensus.
A hive-mind of 28 NFL experts has 75 percent confidence that the Falcons will defeat the Panthers on Sunday, as the GIF above shows.
Unanimous A.I. has made some scarily accurate predictions in the past using swarm intelligence, as our previous article explains. For instance, the swarm picked this year's Oscar winners with 94 percent accuracy. Here's Unanimous A.I. founder Louis Rosenberg explaining swarm intelligence at a recent TEDx Talk.
In related news, Unanimous A.I. recently presented a scientific study of its ability to forecast games in the National Hockey League. In a 200-game, 20-week-long study of its Swarm AI in the NHL, it was able to easily outperform Las Vegas expectations, and its "Pick of the Week" was right 85 percent of the time, producing a 170 percent ROI. The paper, titled "Artificial Swarm Intelligence versus Vegas Betting Markets," was presented at the at the IEEE Developments in eSystems Engineering Conference (DeSE 2018) this month at Downing College in Cambridge, England. In a press release issued with the study, co-author Gregg Wilcox says the technology can be applied to matters outside sports, too. "While it's fun to predict sports, we are currently applying the same techniques to a wide variety of other domains, including financial forecasting, business forecasting, and medical diagnosis, all with positive results."
Want to join the hive mind that picks NFL matches every week? Sign up to participate in future predictions