You'll never have to hunt for a spare outlet again.
If there's one downside to today's technologically advanced world, it's that pretty much everything you own needs to be charged constantly. Your headphones, your computer, even your damn books. It can be hard to remember what's juiced up and what isn't, and even harder to find a spare outlet to fill up the battery on a dying device.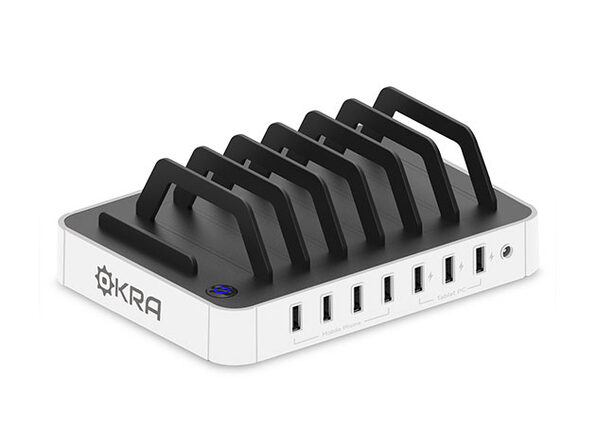 Well, no longer. The Okra 7-Port USB Charging Station is the most efficient and visually streamlined way to charge seven electronic devices at once. With four ports providing 1 amp and 3 more ports providing 2.4 amps of power, the hub is designed to give you 7 times the power without sacrificing safety. In addition, the SmartFlow Technology ensures that each device gets the appropriate amount of power output to allow for the fastest charge possible without risking overheating or worse. If you're looking to charge a bunch devices at once while keeping clutter to a minimum, you won't find a better option at this price point.
The Okra 7-Port USB Charging Station is created with a slick design and form function that keeps 7 devices organized in one small space, keeps your devices in place with non-slippery silicone pads, and, yes, charges the hell out of your phone or tablet or whatever. If that weren't enough, it's currently 60 percent off right now at $39.99.