Why 'Monster Hunt' and a Radish Baby Are Winning China's Summer Box Office
Like a Chinese 'E.T.', it's raking in billions of yuan.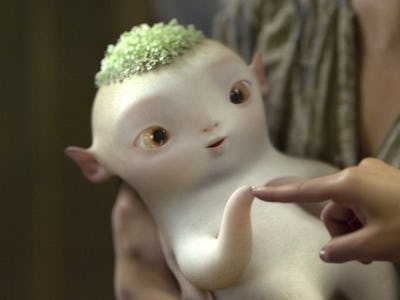 Edko Films
The latest success story at the Chinese box office doesn't have Tom Cruise, or Vin Diesel, or the Avengers. Instead it has the adventures of a tiny anthropomorphic mutant radish monster named Huba birthed by a hapless village man and their wacky adventures together.
Since its release on June 16, the Chinese production Monster Hunt has raked in more than 1.3 billion yuan (or roughly $212 million) at the Chinese box office, setting records that include the biggest single-day gross in Chinese cinemas ever.
Set in a world where monsters and humans co-exist, Monster Hunt tells the story of Tianyin, a villager who is impregnated by a monster queen. He (yes, he) and a lady warrior named Xiaonan must protect his vegetative but conveniently cute offspring from monster-hating humans out to destroy the heir to the monster kingdom.
The movie is a bonafide four quadrant homegrown hit in China for a variety of reasons. It mixes many genres popular to Chinese audiences like Hong Kong mo lei tau films (which are kind of like Chinese-focused slapstick comedies), while its elaborate sets and fight sequences are similar to wuxia films that feature swashbuckling martial arts. A little bit of CGI vegetable monster baby, a dab of martial arts awesomeness, and you've got 1.3 billion Chinese people wanting a ticket.
Huba's thriving also because he's up against scant box office competition. The release date for Monster Hunt turned out to be great timing, owing in part to China's blackout restrictions on releasing only 34 foreign films a year. The only other movie released the week of Monster Hunt was the Aardman Animations film Shaun the Sheep, which we guess didn't carry the same mutant-baby-radish-with-a-heart-of-gold appeal that Monster Hunt did.
Also, no other Hollywood blockbusters are scheduled for release in China until the end of July, leaving Huba some space to do his monster thing until Mission: Impossible - Rogue Nation, Minions, and Inside Out come to hunt the monster.